Recreating a spa experience at home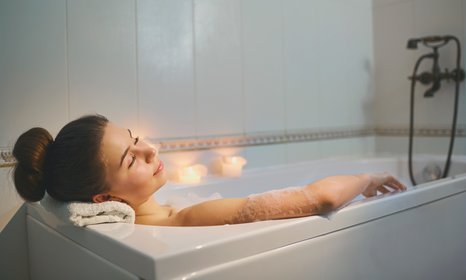 In need of a pamper day at the spa? With all that's going on in the world, it has never been more important to have some time for ourselves by switching off our phones, putting our feet up and rejuvenating the mind and body.
Although nothing quite compares to spa days in west Yorkshire at our luxury spa, we thought we'd share some top tips for recreating the magic at home. From face and body treatments you can do at home to setting the scene with candles and aromatherapy oils, read on to find out how to have the perfect spa-quality pamper at home.
1. Clear your head
In order to be truly relaxed during your at-home spa experience, it can help to try clear your mind and get in a good headspace before you start your pampering.
Whether you prefer meditating or cleaning your house, take some time to do whatever it is that puts you in a clear and calm state of mind.
We also recommend ditching your phone, whether this means turning it on silent or putting it away in a drawer. Our phones are wonderful for many things but can be a big distraction that makes it hard for us to truly relax.
2. It's all about the ambience
Next, you'll want to take some time to create the right ambience, just like at the spa.
Nour Luxury has suggestions for creating the perfect, tranquil space needed for your pamper session, starting with invigorating smells.
"Spas often use natural scents, such as lavender, to create the fragrance that has become synonymous with relaxation. This inviting aroma is easy enough to recreate with a few candles. We recommend using non-toxic candles, made from natural ingredients, to prevent harmful chemicals being released when burnt."
As well as lighting candles, they recommend burning some incense too: "It has the ability to de-stress and evoke a sense of tranquillity. So, it's unsurprising they're a welcome guest at every good pamper night."
Next, they recommend putting on a relaxing spa playlist: "To set the tone of your evening, the right music is a must. The theme should be relaxing but choose whatever complements your taste."
Lastly, you'll want to dim the lights and enjoy a glass of something special: "A cold glass of something bubbly is one of the main pamper night essentials. Anything in the prosecco and champagne family is invited. If you'd rather something non-alcoholic, this is also perfectly welcome. Peppermint tea or hot chocolate are often popular choices."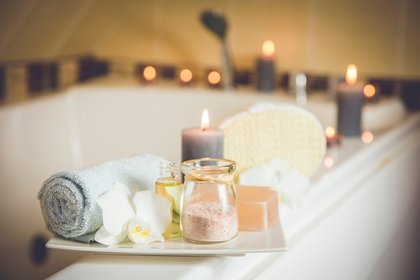 3. Have a long soak in the bath with luxury products
With the scene set, it's time to start filling your bathtub. You know that pamper set you received at Christmas? It's time to break out those luxury aromatherapy oils, bubble bath mixture and bath salts you've been waiting to use for a special occasion!
If you're keen to use aromatherapy oils, Christina Salcedas from Aromatherapy Associates gave Elle her top recommendations: "Although aroma is something very personal, and your body will be drawn to what it most needs, there are specific essential oils that hold properties that will naturally help your mind and body relax. Deeply relaxing oils to look for are naturally sedating vetiver, calming camomile and grounding sandalwood."
Now, relax and soak for 10-20 minutes, putting on eye compresses if you want to feel extra pampered.
READ MORE: The best beauty products to use on your skin this spring
4. Give yourself an exfoliating treatment
After you've let the aromatherapy oils, candlelight and music indulge your senses, you'll want to give yourself a body treatment using either a body scrub or mitt.
Blogger Reena Rai recommends an exfoliating treatment to leave your skin feeling supple and smooth: "Although I don't have a steam room or a therapist to give me a scrub down, I have invested in a mitt so I can recreate a spa day at home. I put the mitts on and meticulously set to work scrubbing my body from top-to-toe. I tend to do this once a week or once a fortnight. I then follow up the scrub with a nourishing body wash."
We recommend Elemis for all things indulgent, with most of our luxury spa treatments featuring their gorgeous range of scrubs, cleansers and polishes.
5. Apply a face mask and give yourself a facial massage
Once you've given your body a nice exfoliating treatment, next, it's time to focus on your face.
"We recommend using organic masks or natural scrubs for the best results," says Nour Luxury. "These will instantly rejuvenate and nourish your skin and reduce the risk of irritation."
If your skin needs a little more love Reena, recommends doing two masks: "When I'm doing a spa day at home, I like to do two masks. I love using a clay mask to draw out impurities and follow this up with a nourishing mask to hydrate my skin."
Once you've washed off your face mask, if you're looking to give your skin the five-star treatment, treat yourself to a facial massage.
"Facial massage has many benefits including boosting circulation, sinus and tension relief as well as bringing nutrients via the blood flow to the skin, which increases the skin cell health," says an article by skincare experts Face The Future. "It has holistic health benefits and is a proven stress reliever. It also stimulates the lymphatic system, which is responsible for ridding the body of toxins and any build-up of fluids."
To give yourself a lymphatic facial massage, all you need is your favourite oil and to follow these simple steps by Face The Future. Once you're done, either leave the oil on to soak into your skin or if you're prone to breakouts, wipe it off and apply your usual moisturiser.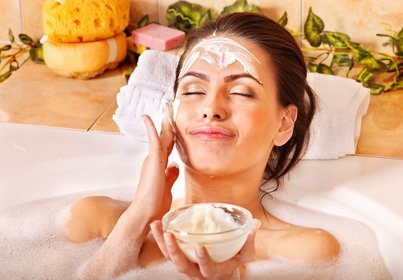 6. Breathe some life back into your locks
With face and body relaxed and rejuvenated, it's time to give your locks some love. After shampooing your hair, apply a deep-conditioning hair mask and leave it on for a while. If you don't have a hair mask handy, extra virgin olive oil makes a great DIY hair treatment.
"Extra virgin olive oil has always been used as a natural conditioner to treat dry hair," says an article by Luxy Hair. "It also produces soft and shiny hair by locking in the moisture and preventing dryness of the scalp. It's a great resource for preventing hair breakage, split ends, and even fly-aways!"
Apply to your hair and leave on for as little as 15 minutes, or if your hair is in need of some more TLC, pop a shower cap on and leave it for longer.
For more DIY hair masks, make sure to check out this great list from Luxy Hair.
READ MORE: The best books to pack for a spa break
7. Moisturise to lock in the goodness
After giving your skin a good exfoliating treatment in the tub, you'll want to ensure you re-hydrate the skin and lock in all the goodness by moisturising.
Reena recommends a hydrating body oil for extra smoothness: "I promise the combination of a good scrub and hydrating body oil will leave your skin so soft you won't be able to stop stroking it. But a luxury moisturiser will also suffice.
Don't forget about your hands and feet – they need a good pamper session once in a while too.
"I rub cuticle oil onto my cuticles to keep them moisturised then follow up with a hydrating hand cream. For a more intensive treatment, I slip on some cotton gloves," says Reena.
"I love getting a pedicure and feel it's a necessary part of my pampering routine, my poor feet are forever in heels, and it feels like the least I can do to treat them. My ultimate home treatment for feet is an exfoliating foot mask."
Looking after the face is just as important as looking after your hair, whether you have dry skin, oily skin or combination skin. Looking at introducing hyaluronic acids into your routine and using eye masks to keep the under eyes as hydrated and super soft as possible. Enjoying a home facial now and again is a great way to feel pampered.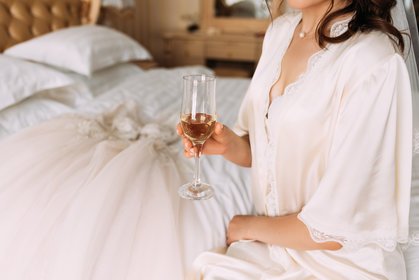 8. Get cosy and wind down
With your glow restored and your relaxation levels high, it's time to get cosy. Put on your comfiest PJs and wrap up in your fluffiest dressing gown. What you do next is up to you, but we recommend winding down with a good book, listening to music or even enjoying a drink outside in your garden (like you would at the spa!). If you can, avoid technology and your phone for a bit longer. This time is yours to unwind in - your notifications can wait.
If all that pampering has made you ready for bed, Nour Luxury has one last tip: "Use a lavender spray on your sheets, just before your head hits the pillow. You'll already be smelling of a luxury spa, but this mist is a great finishing touch to help you sleep better!"
Recreating a spa experience at home:
1. Clear your head
2. It's all about the ambience
3. Have a long soak in the bath with luxury products
4. Give yourself an exfoliating treatment
5. Apply a face mask and give yourself a facial massage
6. Breathe some life back into your locks
7. Moisturise to lock in the goodness
8. Get cosy and wind down
For more wellness tips and advice, make sure to visit our blog.