The best books to pack for a spa break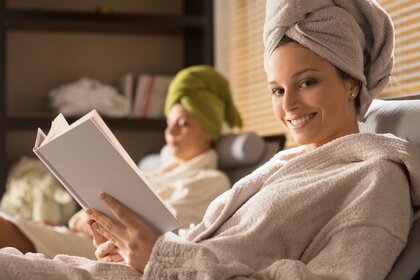 Visiting a spa is a really relaxing way of unwinding, de-stressing and enjoying time with friends and family. If you have booked a 2 for 1 spa day in West Yorkshire or are looking to book an overnight stay at Titanic Spa, then being prepared with a few good books and some things to keep you occupied during your stay is a great idea. Books can add to the tranquillity of your stay and there is nothing better than getting stuck into a good story whilst relaxing alongside our swimming pool. In this article, we take a look at some of the best books to enjoy at an upcoming spa breaks and to offer you a little inspiration.
The best books to pack for a spa break:
- Some Kind of Happiness
- The Seven Imperfect Rules of Elvira Carr
- The Backpacking Housewife
- The Secret Seaside Escape
- The Vanishing of Audrey Wilde
Some Kind of Happiness
Some Kind of Happiness is a book authored by Claire Legrand and is all about powering through tough times in life with courage and conviction and the belief in magic even in the most challenging situations.
Good Reads describes a little more about the book and what to expect: "Finley's only retreat is the Everwood, a forest kingdom that exists in the pages of her notebook. Until she discovers the endless woods behind her grandparents' house and realizes the Everwood is real--and holds more mysteries than she'd ever imagined, including a family of pirates that she isn't allowed to talk to, trees covered in ash, and a strange old wizard living in a house made of bones. With the help of her cousins, Finley sets out on a mission to save the dying Everwood and uncover its secrets. But as the mysteries pile up and the frightening sadness inside her grows, Finley realizes that if she wants to save the Everwood, she'll first have to save herself."
Rated 4.3/5 on Good Reads, this story will tug at the heartstrings whilst allowing you to understand the true power of the imagination.
The Seven Imperfect Rules of Elvira Carr
Written by Frances Maynard, The Seven Imperfect Rules of Elivra Carr is a story about a twenty-seven-year-old who has never lived alone and is thrown into the wide world when both her parents are no longer able to take care of her. Struggling through her life that she feels like she doesn't fit into, she powers through the turmoil of supermarket shopping, cleaning, and socialising.
Rated 4.5 on Waterstones, the site describes the book as: "Funny, heart-warming and ultimately triumphant, The Seven Imperfect Rules of Elvira Carr by Frances Maynard is a story for anyone who doesn't quite fit in - and for everyone who chooses not to. Perfect for fans of Eleanor Oliphant is Completely Fine."
The Backpacking Housewife
Ever thought about packing up and going on an adventure of a lifetime? The Backpacking Housewife by Janice Horton is about just that. Quoted by the Sun on the Amazon website as: "A feelgood read that reminds us it's never too late to live the life you want".
Lorraine Anderson is a housewife just like any other, but one day when she is cooking a Sunday roast, she never could have imagined ending up in Thailand. After an altercation with her husband, she packs her bags and decides to travel the world.
Amazon explains the book synopsis in a little detail: "Lorraine Anderson was meant to be making a Sunday roast, not swanning off to Thailand, backpack in hand! But when she finds her husband and her best friend in bed together there's only one thing to do – grab her passport and never look back! Now, with each mile travelled Lori sheds the woman she once was and finds the woman she was always meant to be. A woman of passion and spirit who deserves to explore the great unknown…and to indulge in the temptation she encounters along the way!"
The Secret Seaside Escape
With feelings and references back to warm summer days, The Secret Seaside Escape is a heart-warming book by Sarah Morgan. Noted as A Sunday Times Bestselling Author, Sarah has created a story of warmth, a welcoming community, and the true wealth of a seaside escape.
Rated as 'very good' on Wob.com and described in a little more detail: "Tess Tyler needs a break. Weighed down by her high-pressure job and her demanding father, she's left little time to take care of herself. But after a shocking discovery sends her spiralling, she flees to Wynmouth, the seaside town she fell in love with as a child, to escape it all. With its sandy beaches, stunning rock pools and welcoming community, Tess feels like she can finally breathe again. And as she grows ever closer to local barman Sam, she dares to dream that she might never return to her real life. But when a familiar face returns to town, Tess realises that there are secrets in Wynmouth too, and that her own past may be about to catch up with her…"
The Vanishing of Audrey Wilde
If you want to get stuck into a gripping novel that you're not going to want to put down, then The Vanishing of Audrey Wilde by Eve Chase is the perfect choice.
Want to know more about the book plot, Amazon describes it in a little more detail: "When four sisters arrive at Applecote Manor to spend the summer, all is clearly not well. They find their aunt and uncle still reeling from the disappearance of their only daughter, five years before. No one seems any closer to finding out the truth. Why did Audrey vanish? Who is keeping her fate secret? As the sisters are lured into the mystery of their missing cousin, the stifling summer takes a shocking, deadly turn. One which will leave blood on their hands, and put another girl in danger decades later…"
If you want to be kept on your toes, then this is the kind of book you would enjoy on your upcoming spa break.
If you're planning to head to Titanic Spa for a festive getaway or are planning to give the gift of a spa day to a loved one, then why not recommend some of these options, or buy them to book so they can enjoy it alongside their spa voucher this festive season? For more articles like this, take a look at the Titanic Spa blog.