Be 'summer ready' with these top beauty tips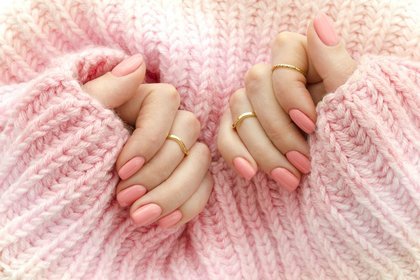 There isn't a better feeling than applying the best 'summer ready' beauty tips before you jet away on your summer holiday. If you haven't got the time to go on a luxury spa break in Yorkshire, then take a look at the list we have compiled of the most useful and easy-to-prepare beauty tips to try out at home before hitting the beach.

Nails
Looking after your nails, both on your hands and feet, can become neglected when you are on holiday when building your tan becomes the most important! So making sure they are neat, tidy and presentable should be your first priority when preparing for the summer.

To keep your nails looking fabulous for the duration of your holiday, soak them in some warm water until your cuticles can be easily pushed back into a neat shape, but don't cut them! The cuticle acts as a barrier from dirt and bacteria which could turn into an infection if they are removed. Once the cuticles have been taken care of it's time for the all-important nail polish.

This summer is all about deep blues and exotic reds and luckily both complement a beautifully bronzed body! First, apply a quality base coat that will make the varnish stick. Once dried, apply the varnish avoiding the cuticle area as this will prevent the varnish from chipping, apply a second coat and then a stroke of topcoat to make the varnish really hold.

Bronzed goddess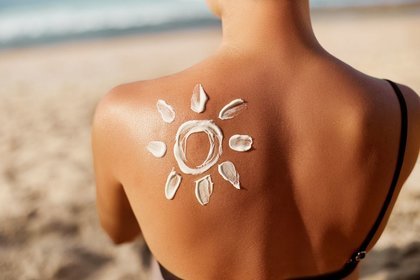 Everyone wants a beautiful tan by the time their holiday comes to an end and it's easier than you think to prepare your skin in the safest but quickest way for a gorgeous glow.

The best beauty tip out there for healthier-looking skin, before sitting under the sun, is to exfoliate. Whether you like to use a loofah with shower gel or a deep, invigorating sea salt scrub to get rid of dead skin, use whichever you prefer and works well with your skin.

Exfoliating eliminates dead skin cells to make space for skin cell renewal which gives your skin its resulting glow. Over time your pores will clog through the use of moisturisers and the trusted fake tan! Exfoliating will also make applying sun cream and after sun more effective too, as it will protect the newer skin cells rather than covering the dirt that would normally get in the way of the moisturising, protective qualities of your SPF lotion.

For facial exfoliation and general TLC try a homemade coffee face mask to reduce puffiness and you can use this before, during or after your holiday. Simply ground the coffee beans with cocoa powder and add one cup of whole milk, stir until it combines to make a paste. Add in a tablespoon of honey and lemon juice for extra moisturising qualities.
Hair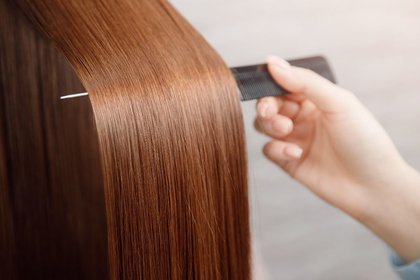 Keeping your hair as moisturised as possible in the summer months can be tricky and that's why preparing beforehand can make a huge difference to the styles you will be able to pull off in the sun. Those with thick hair will know of the trouble with crazy, out-of-control locks when the hair is dehydrated and women with brittle, fragile hair hide from the sun because of the damage the UV rays can do to the scalp. Here are a few easy ways to manage your hair and keep it looking gorgeous abroad.

Thick hair: Conditioning and moisturising are the two main priorities when it comes to looking after thick hair in the summer months. There are many home recipes for natural hair conditioners, such as those from The Upcoming and these are the best options rather than chemically enhanced products that could wreak havoc with the hairs natural oils.

Thin/fine hair: Unfortunately there is not much you can do to prepare thin hair against UV rays, but one option is to use thickening shampoos and conditioners leading up to your holiday. This will allow for extra protection of the scalp from the sun. The best options whilst you are away is to style up a head-band or pre-loved scarf and it's also a great way to accessorise your pool-side look. Remember to apply plenty of transparent sun protection on the scalp which will be easier to use than creams.
Feet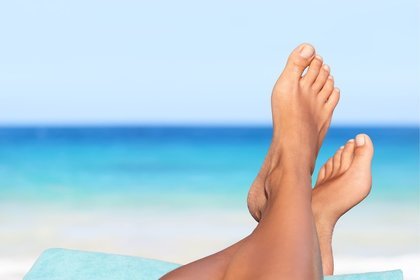 Looking after your feet is crucial for optimum support as well as participating in weight-bearing activities. Although we should look after our feet regularly there are a few beauty tips that could get them as smooth and sparkling as possible before you head for the sun.

Like all home pedicures, soak your feet in warm to hot water to soften the skin, push back your toenail cuticles and follow the same steps to apply polish as you would with your fingernails. The most important step to apply is using a deep, nourishing foot moisturiser to leave on overnight whilst wearing a pair of cotton socks so your feet soak up all the moisture. By doing this you are creating the perfect base for beautiful looking and soft-to-the-touch feet.

Make sure to check out our popular post-holiday skin care tips to make your sun-kissed glow last beyond your holiday!