Perfect nails for the summer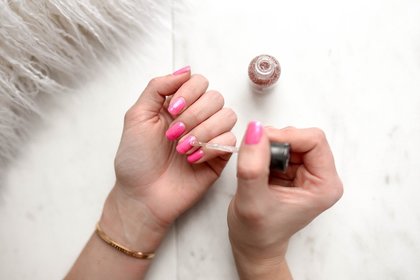 The weather is warmer. There may be that tan to show off, or possibly a new summer dress. To help you stand out at that garden party and make sure people notice more than just that glass of Pimms in your hand, get summer ready and make sure your nails are on trend with these great tips for perfect nails.
Your upcoming manicure and pedicure needs to be on point. With on-trend nails always changing, here are some tips to relieve you from endlessly scrolling through spa manicure images on social media.
Nail design ideas for summer
Nail shape
It seems that the coffin-shaped nail is back on trend again, so the combination of long and colourful nails is in. Bold shapes will likely dominate the coming season. There are some fashion houses still using almond nails, but this is most likely to create the right palette for more elaborate nail designs. Although on the decline, some designers are still clinging to natural nails for their models.
Regardless of shape, the unifying factor in 2020 is that longer nails are preferred over shorter ones, thanks to social media and celebrity nail designs.
Nail art
The rage is clearly negative space nail art. Many use the combination of shimmery colours with shapes like moons and stars. These images are set off by shades like silver, gold and minty greens. There are also some unique expressions taking place with embellished and bejewelled nails.
And a shimmer effect is the perfect choice for those who want to be the centre of attention. It seems the days of French tips is soon to be over.
Colours
What colours to choose is usually the hardest part when sitting down for that manicure. This summer, the experts are pointing to jet black, sleek silvers, and even blue. Some fashionistas have embraced the mish-mash of patterns. Colour is the one variable in your nails that can make you truly stand from the rest.
The elegance of blue, the starkness of black, or the passion of red, the colour of your nails will display your energy and personality.
Patterns
Throughout 2019, people saw the rise of French tips and the original French manicure. But it seems that 2020 will bring the patterns, bright colours and gimmicks. Pattens such as western cowhide prints and water marble effects have been added to the many social media trends that are sweeping across the world. Nails are going to look loud and proud and be the statement of someone's look this summer.
Getting your nails prepped for the summer is a great way to celebrate the changing weather. Whether you treat yourself to a trip to the nail salon or beauty salon, painted nails always make an occasion special. Before heading out to enjoy yourself this summer, treat yourself to a hand or foot treatment while enjoying a blissful spa day in Yorkshire.