Staying healthy at Christmas, what the experts say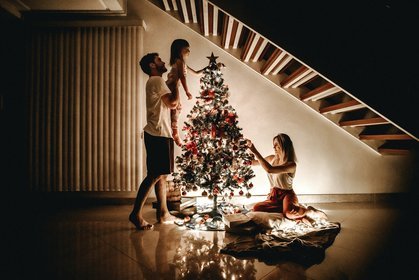 Christmas is nearly upon us, and with it, multifarious opportunities to indulge in areas we wouldn't normally do so. From drinks at parties, sweet and high-calorie foods, as well as not getting in our usual exercise, there are plenty of pitfalls to find. But how do we avoid them?
Well, beyond making sure that you've got that much-deserved break to a Yorkshire spa all booked, there are a number of things we can do to help ourselves during this most tempting of periods.
The Mirror, in a recent article, reached out to a number of health professionals, soliciting their top tips for staying healthy this Christmas. Here are some of their eminently useful suggestions:
Tips for staying healthy this Christmas
Pablo Vandenabeele, a clinical director for mental health at Bupa, stressed the importance of saying no at certain times during Christmas: "You can easily end up burnt out over the holiday season. For me, an important part of staying healthy over Christmas is saying no to some invitations. I try to balance the Christmas commitments that mean the most to me with the need to rest."
Nutritionist and author Fiona Kirk advises to stick to one drink you like at parties and avoid some of the more adventurous alcoholic offerings: "Cocktails, creamy liqueurs and mixers can often be loaded with extra calories. Therefore, on party days I always choose one tipple such as dry white wine or prosecco and stick to it, alternating every drink with water. And my liver and waistline thank me!"
Keeping up your regular exercise can be all but impossible during the festive period, and as personal trainer, Jonathan Wright, told the Mirror, "You have to let your hair down and enjoy yourself at Christmas" and that instead of pretending you're going to go the gym, try to walk your dog for 40 minutes twice per day, instead of 20.
"Just doubling up your daily walking time will help counteract all those extra calories," Wright said. "I also have a Berocca every morning throughout December to boost my immune system and energy levels." (£4.89, from Boots)."
Regarding all that extra screen time that can easily occur over Christmas periods, especially with kids, Jonathan Ross, a consultant ophthalmic surgeon, says: "We have a four-day ban from Christmas Eve until December 28 – and play board games, do jigsaws and talk to each other instead. It's amazing the difference it makes."
More healthy Christmas tips
For more fantastic suggestions to help maintain your health this Christmas period, make sure to read the full article by the Mirror and arm yourself with all the information you need to both enjoy this wonderful time of year and get out of it unscathed.
SEE ALSO: How to give yourself a post-Christmas detox
For more news, tips and advice, make sure to visit our blog.