Six Ways to Fix Back Pain Without Painkillers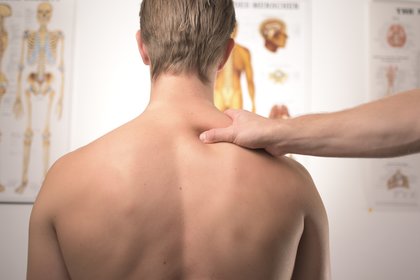 Earlier this week the Daily Mail published an article which asked for advice on treating back pain from a registered osteopath.

Antonia Boulton revealed six ways in which those suffering from backache can help to alleviate the pain, using methods aside from painkillers such as paracetamol, ibuprofen and other stronger varieties. Numerous research trials have even found that painkillers do not improve pain levels of people suffering, nor do they improve recovery time, sleep or quality of life.
The six ways to treat back pain without pain killers are as follows.
1. Use an ice pack
For those suffering from acute muscle or joint strain, Boulton advises that an ice pack can be an effective remedy. She suggests to apply immediately to the area in question for at least 10 minutes and then repeat until the inflammation subsides.
2. Rest and strength training
Issues such as a disc prolapse require medical attention but to help your continual treatment and recovery, Boulton advises initial rest and then strength training instead of relying on pain killers. Pilates is a good option but make sure to follow the advice of your doctor.
3. Keep active
To treat degenerative joint disease, Boulton says that its important that the person keeps active, resisting the urge to become sedentary as this can lead to stiffer joints and even further damage. A gentle walk or low impact exercises such as swimming are good options.
4. Sooth your back pain while also being pampered
Those who have sustained a repetitive strain injury, which is most commonly seen in the upper body, can seek relief in a regular massage with an experienced therapist, such as those at our Yorkshire spa. We offer a variety of massages ranging from back relief treatments to deep tissue muscle massages, and our therapists will be able to advise on which is most suited to you.
SEE ALSO: The many benefits of a massage

To ease this same issue, the osteopath also recommends trying to adapt and balance the movement of your body throughout the day to ensure that your body is not taking all of the strain on one side. Certain stretches and strengthening of the core muscles can also help those who are experiencing trouble with a sore back.
5. Change how you sit
A common cause of back pain is poor posture, something which often happens when sitting at work in front of our desks. Try sitting back with an upright posture so your back is supported by the chair - Boulton says that pulling your chair closer to your desk can help achieve this. Having your feet flat on the ground is important too.
6. Use a heat pack and engage in gentle exercise
People experiencing back pain due to periods are advised by Boulton to use a heat pack and to exercise, which those visiting Titanic Spa can do either in our gym or swimming pool. Not only this but once finished, it is possible to relax and soothe your muscles by using our leisure facilities, such as the poolside sauna and steam room.
How to treat back pain without pain killers
- Use an ice pack
- Rest and strength training
- Keep active
- Soothe your back pain while also being pampered
- Change how you sit
- Use a heat pack and engage in gentle exercise
Back pain is thought to affect 80 per cent of people at least once in their lifetime, but there are a number of solutions that can help alleviate this, such as those above, without the use of painkillers, which many wish to avoid. It is always recommended to seek advice from your GP if you have back pain.
For more tips, news, and advice, make sure to visit our blog.