How to prolong the positive effects of your spa treatment at home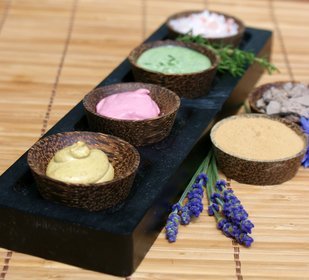 For those who have recently returned from a weekend spa break including luxurious, relaxing treatments and want to find a way to prolong those positive effects experienced at the gym, at home, then you have come to the right place. Here at Titanic Spa, we want you to enjoy every minute of your spa break in Yorkshire, from start to finish, and we hope with these tips you can extend your ultimate spa treatment at home!
For a manicure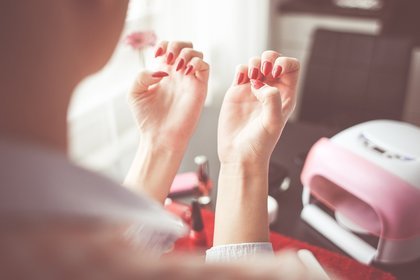 There is nothing better than having gorgeous hands and fingernails. Although many of us use hand cream daily to minimise the damaging effects everyday life, it's just as easy to take the time to give your paws the attention they deserve with some on trend nails at home following your spa manicure treatment.

Steps:
1. Remove current nail polish with cotton wool pads and some acetone nail polish. Using acetone will get rid of harder to remove varnishes efficiently and with less effort.
2. Soak your hands in warm water for three to five minutes. This will soften the cuticles and create a better base for applying nail polish.
3. Apply a small amount of hand exfoliator in a circular motion which will remove dead skin cells without causing damage to the skin.
4. For the nails – apply either cuticle or melted coconut oil to your fingers and gently push back the cuticles so they appear neat and tidy.
5. File and buff the nail to your desired length and shape before applying a base coat, your chosen nail polish and the top coat.
6. Lastly, once the nail polish has dried, use a nourishing hand cream and gently massage each of your hands to finish off your manicure.
For a pedicure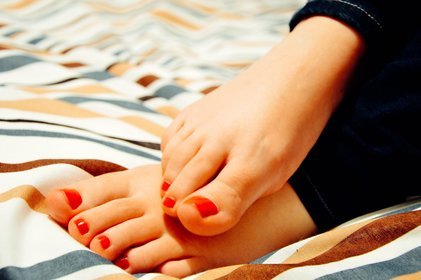 Nothing feels better than stepping into summer with perfect pedicured feet and it doesn't have to take hours either! After your pedicure spa treatment, follow up with our nutritive tips for your feet for lasting smoothness.

Steps:
1. To get the most out of your pedicure, exfoliate your feet when dry and this will shift the dead skin better than when wet. You can use either a foot scrub or a sturdy foot file around the toes, heel and side of the foot.
2. Soak your feet in warm water – the hotter the better – for five minutes and using your hands remove any dead skin or exfoliator left on the feet. For an added hint of luxury, add a few drops of aromatherapy oil to the water for lovely smelling feet!
3. Like with a manicure, push toes nail cuticles back before applying nail polish.
4. Once the polish has dried apply moisturiser. For best results do this in the evening just before you head to bed and wear a pair of socks so the moisturiser soaks into the skin. You will wake up with beautifully soft feet!
For a facial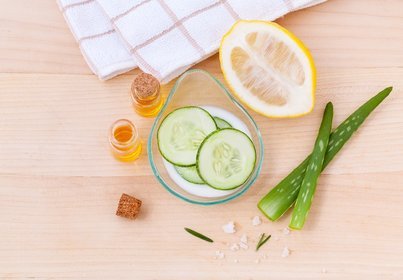 Making sure you get the correct ratio of a silky smooth finish when completing your facial without aggravating the skin can be quite difficult especially if your skin is sensitive to certain products. Here is a great recipe to follow to get the cells under the facial skin working to emphasise a natural healthy glow:

Steps:
1. Before you start to prolong the positive effect of your facial spa treatment, use a cleanser and toner to get rid of any make-up and dirt for the perfect base for your facial.
2. Use a facial exfoliator to gently cleanse pores, focusing on the forehead, nose and chin area. Massage into the skin using circular motions to ensure full coverage and skin cell renewal. Rinse your face with warm water and pat dry.
3. For oily skin apply a clay-based mask and for dry skin, go for a hydrating gel or cream mask. Apply face mask to the face avoiding the eye area and keep it on for the instructed time.
4. Administer a soothing, light moisturiser to the face and enjoy the feeling of pampered skin.
For body cleansing and exfoliation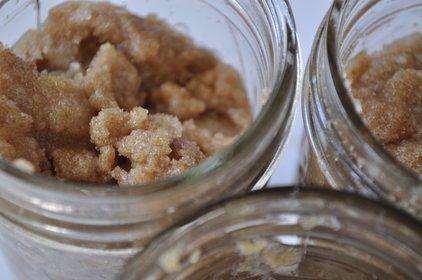 Image Credit: Kim Love (flickr.com)

Creating home exfoliators can be a quick process which provides maximum benefits. The key to gaining smooth polished skin is to know what you are using are best for the right parts of the body, as some products can aggravate the skin more than others. Whether you are looking for a quick fix to your lasting spa treatment, or want to go all out a replicate the professionals, here we have the perfect home remedy for body cleansing and exfoliation.

Steps:
1. If you haven't tried already and want a cheap, organic alternative to a body scrub then creating your own is the perfect way to gain a lasting glow. Mix half part sugar with half part coconut oil, or your preferred product, and apply with a flannel or cloth to protect your hands from irritation.
2. As the scrub may be quite coarse, work it into each limb and body part in a circular motion for 30 seconds to avoid over-exfoliation.
3. Using a loofah or your hands and warm water, gently wash off the sugar and oil until the skin feels soft.
4. Lastly apply a light moisturiser to prevent the pores from clogging, then sit back and relax!

For more tips and advice, make sure to visit our blog and learn about our spa treatments before your visit to Titanic Spa.