Massive fatberg erected to promote healthy Living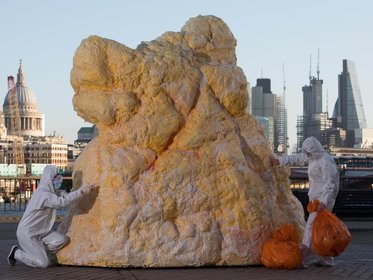 A massive object that is being called a 'fatberg' has been erected in London along the South Bank.

This giant mass of fat is the height of a London bus and is more than 10 feet wide, proving to be a rather unseemly sight for those that pass by. And this is just the point, as the fatberg has been installed to encourage Brits to think deeply about the health impacts of living recklessly over the Christmas period.

Many of us tend to indulge over Christmas time, eating and drinking a little more than we should, going out to myriad parties instead of perhaps booking ourselves an overnight spa break in relaxing Yorkshire.

The fatberg, which was made by Thriva, a preventative healthcare service, was brought into being after a survey was carried out involving 2,000 young professionals which found that they had gained 4.41 pounds on average during the Christmas period.
Brits have abandoned their health goals
Co-founder of Thriva, Hamish Grierson, has said (via ITV): "Even though most people see the benefits of a regular check-in on their health, very few actually do it because it's such a pain to organise.

"As well as getting their bodies back into shape at the gym, we want to encourage Brits to consider what's going on inside, as well as outside this January."

The research also found that 11 percent of the people polled will have already abandoned their new health goals for the year and this will rise to an even more depressing 37 percent by January 21st.

Along with this, one in 10 admit they are in fact seven pounds heavier than they were at the beginning of December and 56 percent of millennials admitted that they drank too much last month.

It's important that as many Brits as possible realise that a healthy lifestyle isn't just for the first few weeks of January and that no one is required to live like a saint in order to live well. With a balanced diet, refraining from excesses, and exercising regularly, the commitment shouldn't be overwhelming.
SEE ALSO: How to give yourself a post-Christmas detox
For more news, tips, and advice, make sure to visit our blog and learn about our spa treatments before your break at Titanic Spa.


Image Credit: Thriva