Do you need to update your skincare routine?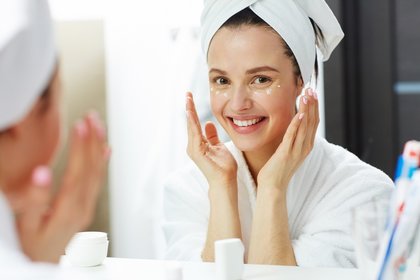 With a constant influx of skin care miracles, must-try natural skin care products and magical new solutions on the market, it is hard not to be overwhelmed by the sheer variety of beauty items available. Your skin is so delicate, so when you find a few products that work, why would you threaten the balance and possibly risk a breakout that could be easily avoided? Unfortunately, your skin is affected by so many factors - internal and external - that though your products may have worked in the past, they may not be exactly what your skin currently needs.

Weather and hormones affect how your skin looks and feels. Age also contributes to this, thankfully, you may no longer have to live with teenage acne, but nor will you always be blessed with the calm of your twenties and therefore we have to adapt accordingly. If you feel you may be in need of an update, there are a few easy ways to check if your skin routine needs an update.
Get hydrated
Are you satisfied with your current routine? Spend a week hydrating as much as you are recommended to see if the products are actually working and your skin is simply dehydrated. This is often the case, especially if you drink a lot of caffeine-rich liquids that reduce the products' effectiveness due to something as simple as reduced water levels.
Check your products are fresh
Check the expiry dates on your skin care products - we all know we should, but life gets hectic, and we often forget. Face creams should be used within a year, cleansers can expire within as little as six months, each product and brand varies and the expiry dates should be displayed on the bottle so it's important to check. It also gives you an idea of when you should be adapting your routine. Your skin will be drier in winter so think about adding a deep moisturising night cream. During summer when your skin is drier is the best time to add an exfoliating scrub to keep it looking fresh, and early spring is the time to contemplate moisturisers with SPF to protect your skin from early summer rays.
Talk to a specialist
As your skin changes, you may no longer be aware of its needs. Treating yourself to a facial during a spa weekend could be a great investment as you work out how to alter your daily routine going forward. Older skin is often drier, so though you may have believed yourself to be in the 'oily' category of skin care products, a specialist may now tell you to use products that are geared towards combination or normal skin types as you get older.
Investigate environmental factors
If you have recently moved- skin care is last on the list of moving priorities, however, you may see the effects in a matter of weeks. Your skin can be affected by humidity, the hardness of the water and even proximity to the sea. The minerals in hard water can clog your pores, so you may need a more vigorous toner, and if your skin is sensitive to salt, any spray can really irritate it, leaving it itchy and unmanageable, so it is worth exploring different reasons why your current routine is ineffective.
If you want to give your skin a treat, visit our eco spa in Yorkshire. From treatments that revitalise your skin to ones focusing on hydration, we have something perfect for your skin. Contact us today to find out more.

Main Image Credit: Ian Norman (Flickr)