A spring guide to luxury Easter eggs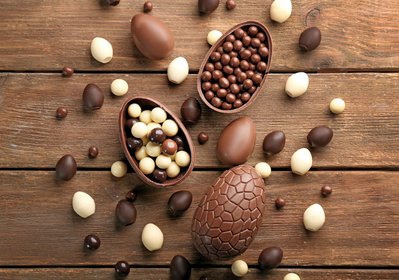 Easter is a time of indulgence. The winter weather is almost gone, and rays of sunshine are starting to appear. It's the perfect time of year to treat yourself for getting through another cold season.

When it comes to treating yourself during Easter, most people opt for the humble Easter egg. However, recently Easter eggs have been excelling and now there are an abundance of luxury eggs on the market, so you can treat yourself properly.
Bettys Limited Edition Spring Bloom Egg
£30, available from Bettys

This hand-crafted and decorated egg is painstakingly created in Harrogate. Decorated with royal icing and spring inspired inscriptions this beautiful egg is the perfect way to welcome spring (and chocolate) into your home.




Chococo Milk Chocolate Sea Salt Caramels Egg
£18, available from Chococo

Filled with smoked sea salt caramel cocoa pods, this diamond egg is a work of art. The brightly-coloured exterior is splattered with spring inspired colours and it truly a masterpiece. It almost looks too good to eat, almost.
Hotel Chocolat Classic Ostrich Egg
£80, available from Hotel Chocolat

Hotel Chocolat has recreated the largest egg of any living bird, the ostrich, in decadent chocolate. Alongside this hefty chocolate egg you get a tray containing 27 of Hotel Chocolat's most iconic chocolates and six golden eggs for you to hunt. Weighing in at over a kilo this egg is big enough to share, but why should you?





Artisan du Chocolat Pineapple Egg
£15, available from Artisan du Chocolat

This gold-lustred pineapple egg is the grown-ups Easter dream. Surrounded by pina colada truffles, this handmade milk chocolate treasure is perfectly indulgent. Pineapples are traditionally a sign of welcome to someone's home, and we sure would welcome this in to our home.





Fortnum & Mason Hand-Painted Chicken Egg
£55, available from Fortnum & Mason

This hand-painted egg boasts unparalleled elegance. The natural pigment used to paint the egg creates the impression of a spring chicken, making the visual experience just as luxurious as the eating.

Booja Booja Chocolate Truffles Filled Easter Egg
£26 available from The Vegan Kind & Ocado

This hand-painted trinket box is filled with vegan chocolate truffles, perfect for the plant-based person in your life. Coming in a variety of flavours, the large egg contains 12 luxury truffles and was voted by The Guardian the most delicious east egg even against non-vegan contenders.


SEE ALSO: The best spring botanicals for skincare
Now as well as treating yourself to a spring spa break in Yorkshire, you can unwind with the luxury Easter egg you truly deserve.