Unhealthy vegan food at high street restaurants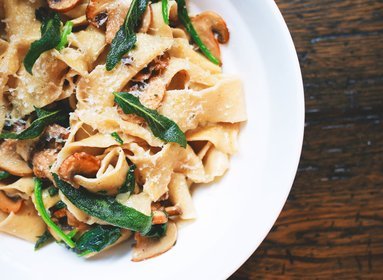 A nutritionist has revealed that not all vegan dishes are as healthy as some might think, there are also a lot of dishes people might think aren't vegan but are a great addition to a vegan diet.

The logic tends to be that if a food or dish is slapped with the label 'vegan' that means that it is healthy and good for us to eat. But this is a common misconception, as you will see.

As reported by The Sun, nutritionist Amanda Ursell has highlighted a number of dishes from popular high street restaurants, showcasing that just because a food doesn't contain any animal products, that doesn't mean that it is healthy. In fact, some vegan options are just as calorie-rich as the non-vegan dishes.
The dishes and the restaurants
For example, at Zizzi, their vegan lentil ragu contains 610 calories whereas their spaghetti bolognese has 508.

"Lentils are lower in fat than even lean red meat but it is likely the chef added extra oil to create a comparable texture and flavour," Ursell told The Sun.

Over at Wagamama, their vegan menu contains the dish yasai itame, a meal that holds 842 calories in comparison to the chicken itame which has less than 820.

Ursell says that the difference here is likely to do with the tofu being fried.

Many of us enjoy a trip to Pizza Express, perhaps before a revitalising day trip to a Yorkshire based spa. But if you are ordering their vegan giardiniera classic pizza, you will be consuming 825 calories, whereas someone else who orders the classic Margherita will only be dealing with 729.

"Extra quantities of vegan mozzarella and swirls of garlic oil are the likely sources of calories," Ursell explains.

These aren't the only culprits: both Harvester and Gourmet Burger Kitchen serve vegan dishes that contain a higher amount of calories compared to other more classic dishes on their menus.

Of course, calories aren't everything. A healthy diet is about balance and there isn't a whole lot wrong with treating yourself now and then to something a little more calorie-rich. Diners, however, should be aware that the label 'vegan' isn't a synonym for healthy.
Come and enjoy a relaxing stay at our hotel and spa and enjoy some of the delicious meals we offer as part of our spa breaks in Yorkshire.