The importance of using biodegradable glitter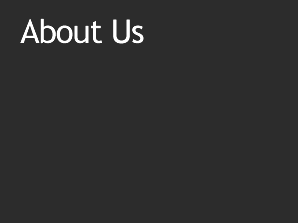 We've all heard how there is more and more plastic making its way into our seas and in recent years
reports
have surfaced saying glitter, a microplastic, has also been affecting marine life and the environment.
At Titanic Spa we are not only regarded as one of the best
spa hotels in Yorkshire
, we are the first established
eco-spa
in the UK and we like to help the environment as much as we can. It has therefore been great to hear that a whole host of
festivals are aiming to get rid of single-use plastic
by 2021.
Here we take a look at why festivals are encouraging people to use biodegradable glitter, where you can purchase biodegradable glitter and whether it could be the future.
Why is the use of biodegradable glitter encouraged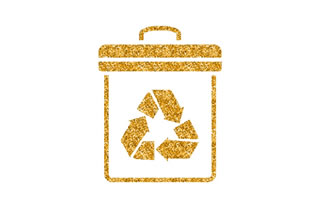 More than 60 independent festivals have recently announced that they intend to get rid of single-use plastics by 2021 and this includes glitter, meaning biodegradable glitter is the future.
Lindsay Ginn from lifestyle blog
Broke and Beautiful
says standard glitter can be more harmful than many people realise.
"With festivals taking place in mainly agricultural or rural areas, the effects of standard glitter can be more noticeable than people think. In areas like that, the pollutants get funnelled directly to local streams and creeks, or in landlocked areas, they sit in the soil and infuse it with whatever chemicals were used to make the glitter in the first place. This can create all kinds of problems for animals like fish and insects, which can then have dire effects further up the food chain. If for-profit festivals are going to use these kinds of areas for their events, they have to acknowledge that the responsibility is on them when it comes to the effects they have on that land. Festivals already plan for people to dispose of thousands of water bottles, cigarette butts, and other litter, so they should admit that standard, conventional glitter is just another type of abundant litter that they will have to be responsible for. With the invention of biodegradable glitter, there's no reason to continue allowing use of the type that litters and poisons our ecosystems."
Menucha Ceder runs the craft blog
Moms and Crafters
and she agrees that it's important for festivals to encourage people to use biodegradable glitter.
"After a festival, all of the glitter is washed away and ends up directly in the water. Non-biodegradable glitters contain microplastics that end up in our sea, end up in our seafood, and end up in us. It's a problem that passes through the food chain. Biodegradable glitter eliminates that problem by using components that do break down and don't essentially last forever.
"When you're talking about a festival, you're not talking about small amounts of glitter on kids' projects. You're not talking about glitter that's discarded in waste dumps, as damaging as that may be too. You're talking about huge volumes. And since it's washed and ends up right back in our ecosystem, it's so much more dangerous. If there's any place to start improving the type of glitter used, it would be at festivals."
Where can you buy biodegradable glitter?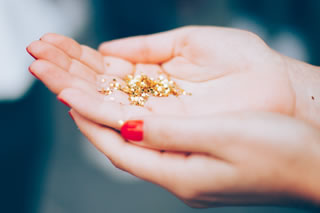 Eco Glitter Fun
was born from two festival loving friends, whose mission is to bring responsible sparkles and plastic pollution awareness to the world.
Sophie from Eco Glitter Fun tells us about their biodegradable glitter, "The biodegradable glitter we supply is made from a cellulose film from eucalyptus trees from sustainability sourced plantations. Once in the natural environment, microbes consume over a period of months causing no harm."
EcoStardust Biodegradable Glitter
Another great place for all you festival goers to buy your biodegradable glitter is
EcoStardust Biodegradable Glitter
.
EcoStardust founder Kath tells us a bit about her business, "EcoStardust biodegradable glitter sometimes referred to as eco glitter, is an eco-friendly alternative to traditional plastic based glitter and uses plant derived material as its basis rather than polyester and will biodegrade into harmless substances in the natural environment. We sell all of our glitter in either aluminium tins, which can be refilled or recycled, or in biodegradable grip seal bags. We use only paper or card based shipping packaging and paper labels so you know you are truly getting an eco-product when you buy from us."
EcoStardust doesn't stop there as they are committed to sustainability in all their business practices and donate 10% of their profits to environmental charities and are big supporters of
Surfers Against Sewage
and all the work they do.
Festival Face
Festival Face
, which was set-up from a mother and daughter creative team, sell a range of unique body and face embellishments.
A spokesperson for Festival Face, adds, "Our biodegradable glitters are eco-friendly, better for the environment when disposed of, but still help to create stunning festival looks & achieve 'Coachella vibes'.
"The biodegradable element of the glitter is derived from sustainable plant sources, does not contain genetically modified materials or materials obtained from genetically modified organisms.
As more people are becoming aware about the benefits of bio glitter it is increasing more and more in popularity. The fact you can use glitter whilst looking after the environment is a bonus."
To try and get more people to join the BIO-Lution (revolution), Festival Face are constantly trying to grow their range of biodegradable glitters and they have noticed more of their customers showing an interest.
"We see more people adding our eco-friendly glitters to their baskets in comparison to our traditional glitters that were originally introduced."
Jolie Beauty
The famous makeup artists
Jolie Beauty
also sell biodegradable glitter and here they tell us about their range.
"Our biodegradable glitters are made from plant cellulose. Meaning, they will break down and biodegrade on land, or in water too. We believe that any glitter that is being used in a manner where it will need to be washed off, should be biodegradable in nature. Every spec of PET Plastic glitter that goes down the sink, is too small to filter or clean out. Meaning there's huge risks of it going back into the water supply and seas and adversely affecting marine life."
Wild Glitter
Olivia Moon, a glitter addict and festival lover, set-up
Wild Glitter
after one particularly heavy weekend of glitter use and watching a weekend's worth of plastic wash down the plughole made her realise that this was being washed into the water systems and ocean.
It was then she discovered biodegradable glitter and this encouraged her to create Wild Glitter to help other festival lovers to sparkle in an eco-friendly way.
"Wild Glitter is made from sustainably sourced wood pulp, mainly from Eucalyptus trees, and it will break down in microbial environments like soil or seawater, places where normal glitter sadly remains as a microplastic.
"It's also worth noting that most craft glitters contain unregulated amounts of a nasty toxin called antimony - this is because they're not designed to be applied to skin and so don't need to comply with the same rules as cosmetic glitters. Wild Glitter is cosmetically certified, and is antimony free!"
Is biodegradable glitter the future of festivals?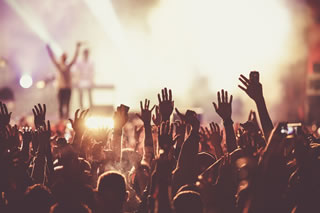 Many experts feel biodegradable glitter is the future for festival goers as it is considered more environmentally friendly than standard glitter.
Eco Glitter Fun's Sophie, says, "Finally festival organisers are banning plastic glitter and forcing traders to only allow biodegradable glitter to be used onsite. Festival goers are becoming more aware of the alternatives which are available to plastic glitter.
"We hope that more festivals and events will start to reduce the use of all kinds of single use plastics such as straws, plastic glasses and take away food containers. Small changes can add up to a big difference to our world."
Jolie Beauty also believe biodegradable glitter is the future for festival goers, "Many festival sites have already banned the use of standard PET (plastic) glitters. This is because the small plastics can interfere with the direct environment and habitat. Many festivals are held in places of beauty, which are important to preserve. Festival bosses are pro-actively encouraging a "leave no trace" stance on their events. Also, we are all becoming more aware of the effect it has on the ocean. Full body glitter painting definitely needs to be washed off. It is impossible to remove with a wipe! Therefore, biodegradable glitter is the only way to go."
Lindsay Ginn from Broke and Beautiful, feels that festivals need to commit to becoming more sustainable.
"Even as far back as the original Woodstock festival of 1969, sustainability and land use has been a contentious issue for festivals. Festivals need to commit to becoming more sustainable if they wish to receive support from savvy music lovers who also care about the environment. Allowing only biodegradable glitter, and focusing on sustainable, biodegradable plastics in general, would be a major statement made by some of the most powerful, profitable events on the planet. Considering that summer festivals are a highlight for young adults, the organisers could be champions of sustainability education, encouraging their participants to learn about and employ practices that are beneficial to the environment. After all, festivals already do a ton of damage to the areas they take place simply from foot traffic, noise pollution, and large litter. If festival companies want to continue deploying these events, the least they can do is be stewards of the land they take place on."
Olivia Moon, says she loves the way glitter allows people to step out of their normal weekday persona and wants bio-glitter to take over from standard glitter.
"Glitter is an easy way for festival goers to step out of their weekday personas, and into the fun, festival version of themselves - it makes people feel and look sparkly, but the environmental impact is weighing on peoples conscience. Bio-glitter is the perfect answer - an eco-friendly version of glitter that looks and feels the same, but that doesn't harm our planet!"
Festivals that are making a difference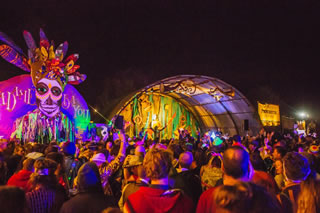 Image Credit: Shambala Festival
-
Shambala Festival
, Northamptonshire – It's in Shambala's DNA to be as environmentally sustainable as possible and it has meant the festival has been hailed as one of the best at reducing plastic waste at its site.
Date of festiva
l: 23-26 August
-
Boardmasters
, Newquay, Cornwall – The Cornish surf and music festival has pledged to rid their festival of single-use plastic by 2021 and have been a long-standing partner of Surfers Against Sewage to implement sustainable & environmental strategies at the festival.
Date of festival
: 8-12 August
-
Bestival
, Lulworth Estate, Dorset – This popular music festival has set-up an initiative called Bestival Eco-Bond to help Keep Bestival Tidy. This sees all adults subject to a £10 litter surcharge and ticketholders will be able to reclaim their money when they present a clear sack of recycling and a refuse bag full of litter.
Date of festival
: 2-5 August