Beauty products that are safe for pregnant women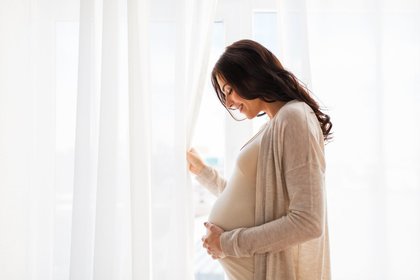 As some of our favourite locations are still closed, including spas, it is important to make sure you are looking after your body and mind as much as possible from the comfort of your own home, especially if you're pregnant. Being pregnant comes with many changes, mainly to your body, so it is important to nourish it and celebrate how it is changing.
In this article, we will discuss some of the best pregnancy-friendly beauty and body products that are perfect for those who want a little indulgence incorporated into their daily routines to make up for the lack of one night spa breaks in Yorkshire available at the moment.
Keep on reading to find out about some of the recommended products perfect for mums-to-be and baby bumps alike.
Weleda Mother & Child Range
Weleda have a dedicated mother and child section on their website, catering to pregnant mums, babies and bath time. With gentle ingredients, the products have been produced by midwives and pharmacists to help support the development of both mother and baby skin.
We spoke to Petra, the blogger behind A Mum Reviews and she recommended Weleda for mums-to-be who want indulgent products to nourish their skin and make them feel pampered:
"When you are pregnant, pretty much everything that goes into you goes to your baby too and this is true for products absorbed by your skin, not just what you eat and drink. When I was pregnant with my first daughter, I looked into pregnancy safe skincare products and discovered many brilliant, natural and gentle products by the brand Weleda. They have a range for pregnancy and breastfeeding products which is lovely, and I also enjoyed using their Aknedoron range to treat hormonal breakouts without going near any ingredients that could be harmful to my baby. I still use this brand today as they make such wonderful products!"
Recommended Weleda products:
Evian Facial Spray
Another brand that offers great benefits to those who are expecting a baby soon is Evian. More commonly known as a brand that produces water, Evian has branched out and recently created a selection of water-based facial sprays, perfect for those who may experience hot pregnancy flushes, as Becky from the blog A Beautiful Space recommends. She continues to explain how it can help those who often feel hot and bothered:
"One product I would recommend to all pregnant women is the Evian Facial Spray - the lightweight mist is enriched with essential mineral salts from pure Evian mineral water from the Alps. It is hypoallergenic and safe for pregnant women to use and it is so refreshing. With pregnancy, the extra weight and hormones can leave you hot and bothered and leave you looking flush and flustered. A cooling facial mist can help you cool down so you are glowing with natural beauty rather than sweat!"
The Evian Facial Spray is a hypoallergenic spray and comes in a selection of sizes, perfect to carry around in your bag or car. Enriched with essential mineral salts, our skin will thank you later.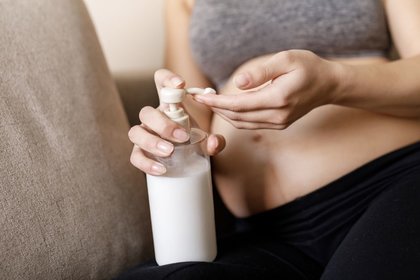 Nivea Moisturising Cream
A recommendation from Stapo's Thrifty Life Hacks, or Claire as she is also known, is the Nivea Moisturising Cream for the face. It is perfect for sensitive skin, especially de-hydrated pregnancy skin that may need a little extra care. This multi-purpose balm is great for the whole body but is super for the face and hands when they need a little extra hydration. Claire explains a little more:
"When pregnant, you want to ensure that your skin remains hydrated, to reduce stretch marks. I used Nivea Soft Moisturising Cream for the face, hands and body. I'd recommend this product as it keeps your skin hydrated for 48 hours and it's also super affordable. You can pick a tub up for less than £5."
The Body Shop Vitamin E Quench Sheet Mask
Our faces are a place that we might forget to look after when pregnant and sheet masks are an easy and convenient way to moisturise and nourish your skin with little hassle. The Body Shop Vitamin E Quench Sheet Mask is a great example of one of the great pregnancy-friendly sheet masks. Claire from Stapo's Thrifty Life Hacks also recommended this one.
"When you're expecting a baby it can feel as though your body isn't your own, so it's important to dedicate time to making yourself feel good. As you can't have a glass of wine and blue cheese is off the menu, beauty products are a natural go-to. I'd recommend using The Body Shop's Vitamin E Quench Sheet Mask if you're after a treat. You may find that your sense of smell is heightened if you're expecting, so I'd always advise selecting natural, odourless beauty products like this one."
The Body Shop is a great place for gentle products. They are against animal cruelty meaning all their products are sustainably sourced and great for your skin.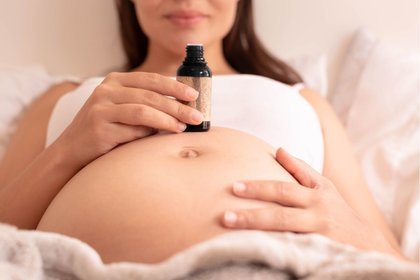 Aussie 3 Minute Miracle Moist Hair Conditioner Treatment
Your hair can often be affected by pregnancy, whether that is through hair thinning whilst you're pregnant or post-partum hair loss, so finding great products to keep it feeling its best is important.
Another recommendation from Claire was an indulgent Aussie product, she explains a little more: "I'd also recommend using the Aussie Deep Treatment 3 Minute Miracle Moist Hair Conditioner Treatment. You should use it at least twice per week. I lost a lot of hair when I was post-partum, so I was thankful that what I was left with looked and felt smooth and conditioned."
Mama Mio Tummy Rub Oil
"My skin changed massively in pregnancy. Once smooth, supple skin became dry and stretched," explains Charlotte Harding also known as Welsh Mummy Blogs. Changing skin is a huge part of pregnancy as your body adapts to growing so finding products to aid it on its journey is important. Charlotte recommends the Mama Mio Tummy Rub Oil, a complex, omega-rich oil perfect for pregnant tummies.
"I used a few different tummy oil brands but Mama Mio was by far the best and perfectly safe to use in pregnancy. The Mama Mio range is a highly-effective, feel-good product that is dermatologically tested and has been put through rigorous user testing. The Omega Skin Stretch Complex nourishes and elasticises skin delivering clinically proven results on pregnant women, you can really see and feel the results. This oil is perfect for the tightness associated with the stretching of the skin due to an ever-growing bump, it is also good to use once the baby has arrived."
So, whilst you cant visit Titanic Spa and enjoy a wonderfully relaxing pregnancy treatment, why not try out some of these recommendations and enjoy a well-earned pamper evening you and the baby will love?
Beauty products that are safe for pregnant women:
Weleda Mother & Child Range
Evian Facial Spray
Nivea Moisturising Cream
The Body Shop Vitamin E Quench Sheet Mask
Aussie 3 Minute Miracle Moist Hair Conditioner Treatment
Mama Mio Tummy Rub Oil