How to prepare the perfect healthy barbecue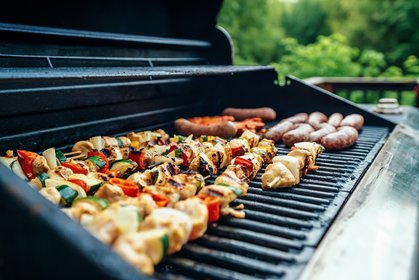 It's summer! Even if the great British weather doesn't always want to cooperate, there is very little that will stop us getting outside and making the most of it when those rare windows of sunshine do occur.

From sunbathing in the garden to relaxing on the beach, there are so many things that can only really be done with comfort in the height of summer.

Of course, one of the most popular ways for us to chill out in the company of family and friends when the weather gets warmer is by firing up the barbecue and enjoying some delicious smoked or grilled food.

It would be fair to assume, however, that most of the gatherings you will be invited to this summer may not be completely suitable for the calorie-conscious. Sadly, greasy burgers, fatty sausages and ribs dripping with barbecue sauce are standard fare at the majority of barbecues. And, despite more of us than ever now looking after our bodies by keeping an eye on our diet and booking up spa days in West Yorkshire and elsewhere, this is unlikely to change anytime soon!
The healthy options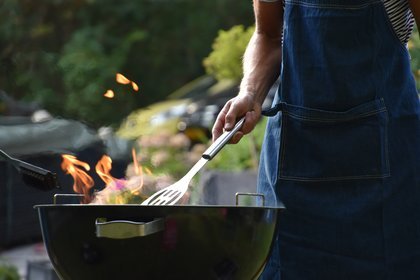 Fortunately, however, there is absolutely no reason why you need to follow the crowd and get back from your next barbecue feeling bloated and uncomfortable. More and more people are now creating recipes aimed at those of us searching for a guilt-free barbecue option, and here we will share with you a few we think are best.

So, whether you will soon be going to someone else's barbecue, or hosting your own, read on for some inspired tips on how you can prepare a range of dishes this summer that will be the envy of all your health-conscious friends, and may even encourage some healthy eating habits among others!

Below are three mouth-watering recipes from Weight Watchers, a company we all know who have helped millions of people lose weight since the early 1960s. If you have already signed up to a Weight Watchers programme, you will be happy to know that some helpful notes on how many SmartPoints each dish is worth have also been included.
Melt in the middle burgers
MAKES 4 ~ Prep time 15 minutes + chilling ~ Cook time 20-25 minutes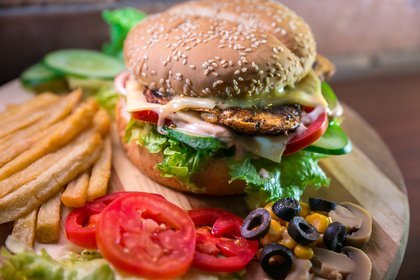 ~ Calories 253 per serving ~ SmartPoints 6 per burger
Ingredients
Calorie controlled cooking spray
1 small red onion, finely diced
500g 5% fat beef mince
1⁄2 tbsp dried oregano
125g reduced-fat mozzarella, diced
50g sun-dried tomatoes, chopped
Method
1. Mist a pan with cooking spray and cook the onion over medium heat for 8-10 minutes, until softened. Put the onion in a bowl and set aside to cool. Once cooled, mix the onion with the beef and oregano and season.

2. Shape the mixture into 4 meatballs. Push a quarter of the mozzarella and tomato pieces into the centre of each meatball so the filling is fully encased, then flatten slightly to make a patty. Cover and chill for 30 minutes.

3. Cook the burgers on a medium-hot barbecue plate for 6 minutes on each side until the meat is just cooked and the cheese has melted. Cooking on the plate rather than the barbecue grate helps the burgers keep their shape.
Sticky peach and pork skewers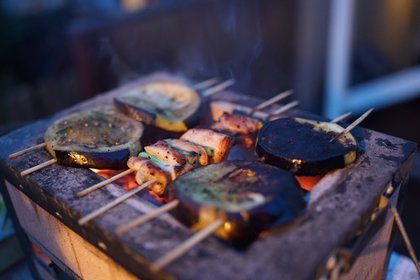 MAKES 8 ~ Prep time 10 minutes + soaking ~ Cook time 12 minutes

~ Calories 100 per skewer~ SmartPoints 3 per skewer
Ingredients
2 tbsp clear honey
2 tbsp wholegrain mustard
350g pork tenderloin, cut into 3cm pieces
2 peaches, halved, stone removed and flesh cut into 3cm pieces
You will also need 8 wooden skewers, soaked in water for 30 minutes
Method
1. Mix the honey and mustard together in a small bowl and set aside.

2. Thread the pork and peaches onto the skewers and lightly brush over the honey and mustard mixture.

3. Cook the skewers on a preheated barbecue for 5-6 minutes on each side, until the pork is golden and just cooked through and the peaches lightly charred.
Spiced cauliflower 'steaks'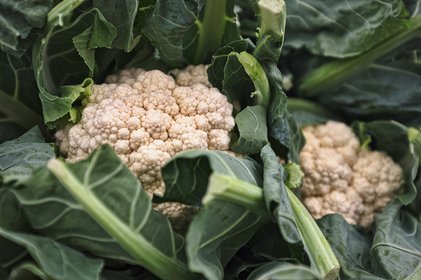 SERVES 4 ~ Prep time 10 minutes ~ Cook time 10 minutes ~

Calories - 194 per serving ~ SmartPoints 3 per serving
Ingredients
2 whole cauliflower, leaves removed
2 tbsp oil
1 tsp agave syrup
Juice of 1 1⁄2 lemons
1 tsp ground cumin
2 tsp smoked paprika
1⁄2 tsp chilli flakes
75g low-fat natural yoghurt
Method
1. Chop the base off each cauliflower so they sit flat on your chopping board. Cut 4 x 1cm thick 'steaks' from the largest part of each cauliflower, so you have 8 in total.

2. Mix the oil, agave, 2⁄3 of the lemon juice and spices together in a small bowl, then brush over the cauliflower.

3. Cook the cauliflower on a preheated barbecue for 5 minutes each side, until charred and tender, brushing over any leftover marinade as they cook.

4. Mix together the yoghurt and remaining lemon juice. Serve the dip alongside the cauliflower 'steaks'.

TIP: Blitz any leftover cauliflower to use as 'rice' the next day.
Weight Loss Resources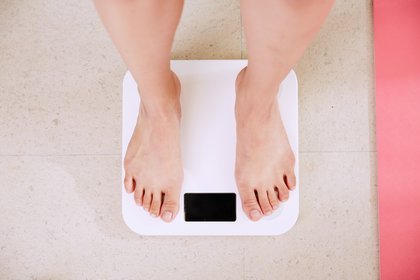 But that's not all! Here's a selection of ideas courtesy of Weight Loss Resources – an evidence-based, comprehensive programme for people who want to lose weight healthily.
Veg and fruit kebabs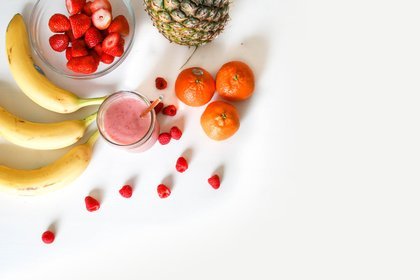 "Kebabs bring colour and interest to your BBQ. They are simple to make with lean meat, chicken breast, prawns or tofu skewered together with some fresh summer veg and/or fruit. Try cherry tomatoes, mushrooms, onion, peppers, courgettes, asparagus, aubergines, pineapple chunks, apple slices... whatever takes your fancy! Simply put your chosen combination onto skewers, brush with a little marinade or secret sauce and grill over the BBQ until the meat is cooked and tender and the vegetables are roasted and charred around the edges."
Salmon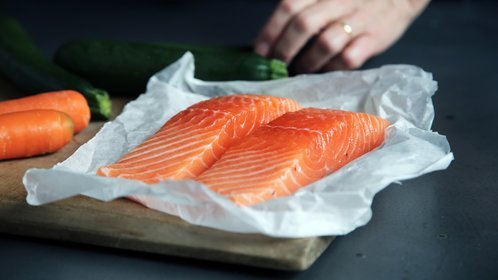 "Place a whole fillet onto a sheet of foil large enough to make a parcel. Slice half a lemon and layer over the top of the salmon, squeeze the other half over the fish, season and wrap the foil to make a generous parcel and refrigerate overnight (to allow the flavours to fuse). Cook on the barbeque for about 10 minutes - depending on the thickness of the fillet. This is delicious served with natural, low-fat yoghurt, salad and crusty bread."
Low-fat garlic mushrooms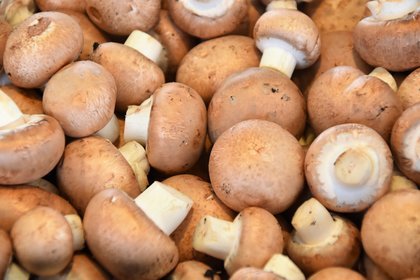 "Take a large square of tin foil, spray with a light cooking spray, add some sliced mushrooms, a clove of crushed garlic, freshly milled salt and pepper and wrap up in a parcel. Cook the parcel on the BBQ for about 15-20 minutes. Serve with lightly toasted French bread."
Dessert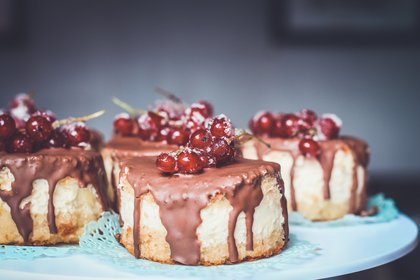 "Make up a bowl of fresh fruit salad and serve with low-fat yoghurt. Alternatively, whilst the charcoal is dying down, pop some bananas (in their skins) wrapped in tin foil on the shelf and leave for about 10 minutes. When you unwrap them you'll have a delicious gooey banana dessert!"

And to drink? It may not have been something you've considered, but Weight Loss Resources were also keen to point out how many calories can be hidden in the beers, ciders and wines which so often accompany a great barbecue.

This article extensively taste tests a range of low and non-alcohol alternatives, with mixed results (no pun intended). One particularly impressive review to look out for here is that of Heineken 0.0%: 'Not quite sure of the wizardry that went into this but to my palate, this tastes so similar to classic Heineken as to be nearly indistinguishable.' High praise indeed!
Hints and tips for healthy barbecues
We have been amazed by how many unique and innovative ideas people out there have for preparing mouth-watering yet nutritious barbecues, and below we have put together some of our favourites.
Saskia Gregson-Williams, better known as Naturally Sassy, is a cookery writer (and former professional ballet dancer!) who has been taking the healthy eating world by storm since starting her blog in 2014. She now has an acclaimed recipe book to her name and her following is growing by the day.

We were therefore delighted when Sassy shared some exclusive tips with us on how you can enjoy a truly healthy barbecue this summer, without sacrificing any of your favourite flavours:

"British summertime is finally in full swing which means people are coming over and barbecues are coming out! Summer is the season for great food but this doesn't mean that it's all unhealthy…quite the opposite. Here are 3 tips for creating the perfect summer barbecue that is both delicious AND nutritious"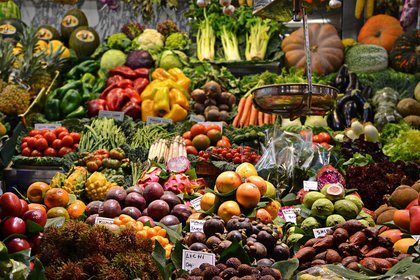 Create some tasty veggie Skewers
Instead of only piling up meats and protein-heavy ingredients on the grill, construct a menu that caters to multiple food groups. Throw some fresh mushrooms, tomatoes, corn and squash on there and make some veggie skewers. This way there are several options to go for and you get some variation. Cooking veggies such as corn also boosts the level of antioxidants.

"Also, keep in mind the 3-quarter plate rule: 3 quarters veggies and 1 quarter meat/ fish. The more tasty, veggie options you have the more likely you will fulfil this ratio!"
Think about sides, sides, and more sides
Think salad sides. Fresh salads work so well in a barbecue because they pair so nicely with the smokiness of the grill. Salads also fulfil your green quota of the day and they taste amazing! Quick Beet & Avocado or simple Tomato & Basil combos will work with anything you cook up. Naturally Sassy's sweet potato fritters with avocado, rocket and lemon salad is delicious. Plus, her tomato, basil and avocado pasta salad is tasty and easy to make!
Swap Pimms for a refreshing juice
Whilst the quintessentially British glass of Pimm's on a summers day is lovely, a much healthier (and sometimes even tastier) alternative is some freshly squeezed juice. By juicing yourself you are avoiding the added sugar in pre-packaged fruit drinks and upping your Vitamin C at the same time. You can even freeze the juices you make into some healthy ice-pops for dessert!

Saskia from Naturally Sassy recommends her pineapple and carrot juice as well as her beetroot and apple juice.

Weight Watcher's top tips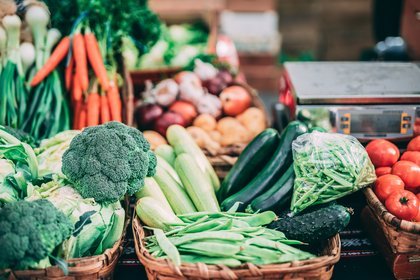 Weight Watchers also shared with us some additional top tips for making sure that, whatever dish you fancy preparing at the grill this summer, you can still stick to your diet plan whilst enjoying the very best food:

• "When choosing burgers, make sure to choose extra lean mince options - the M&S Skinny Beef Burger (Less Than 3% Fat) and Skinny Chicken Burgers with Garlic & Herbs (Less Than 3% Fat) are great options as they're only 2 SmartPoints each.
• Stay in control of the condiments. Opt for lighter/low-fat options, such as 1 tbsp Light Mayo, English Mustard or Tomato Ketchup for 1 SmartPoint each.
• How about making your own potato salad and coleslaw to avoid spending those points you don't need to?
• Vegetable kebabs are a great way to stay within your SmartPoints budget. Choose your favourite zero hero vegetables to keep you fuller for longer.
• For dessert, why not try fruit kebabs? Pineapple, mango, peach and kiwi make a tasty zero SmartPoint combo.
• The Weight Watchers 0 SmartPoint marinades are perfect to go over a chicken kebab.
• Typically BBQ's = alcohol. The worst offenders are wines, beers and ciders. Be aware you don't overspend on your SmartPoints budget and opt for spirits with a low-calorie mixer."
Heck's top tips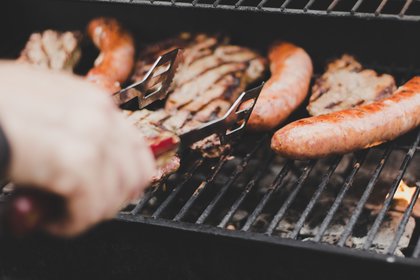 If you really want to eat well this summer but think that a barbie simply isn't a barbie without a generous helping of bangers, then don't worry: we have also spoken to the folks at HECK, who told us why choosing from their range of high-quality sausages is so much better for you than the standard supermarket alternatives.

'Family owned HECK was set up four years ago by the Keeble family and their award-winning, gluten-free sausage recipes are firm favourites on summer BBQs. HECK makes its sausages with minimum 85% lean British pork shoulder. Reports suggest the healthiest sausages are those with a high meat content as they're not packed with fillers to bulk them out and HECK's recipes hold up well on the BBQ with very little fat lost during cooking. Try their 97% pork recipe made from top quality pork shoulder, plus they're dairy-free too.

'Pork sausages need cooking for around 20 minutes on the BBQ, turn frequently to make sure they're evenly browned all over and always make sure juices run clear before serving. Delicious served with ratatouille, rice salad or potato salad. For a quick, tasty and healthy potato salad, mix cooked new potatoes with some quark, chives and a little green onion, and serve on the side with the sausages and a crisp green salad.

'HECK's novel square sausages are designed not to fall through the grill so you'll never lose a sausage to the BBQ embers again. These 97% pork patties are skinless and perfect served in between some ciabatta or flatbreads for a gourmet BBQ hot dog-come-burger. Pop the bread on the BBQ to warm it through and slightly char it before serving. Try with a simple homemade dressing made from balsamic vinegar, avocado oil and some finely grated apple. The apple will work really well with the pork.'
If you are trying to be healthy this summer, why not reward yourself with a relaxing spa break in Yorkshire, where we care about health, wellness and sustainability.