How to have a guilt-free Pancake Day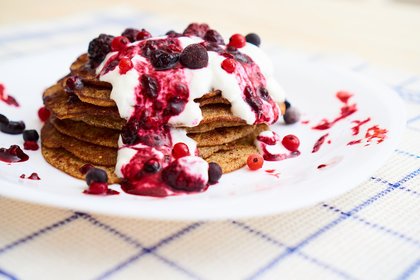 Pancake Day is one of the best days of the year but being so soon after January 1st it can be hard to stick to your New Year's resolutions. Although your options seem limited, with a few small changes you can bring a new aspect to your pancakes and dismiss your guilt when you go up for seconds (and thirds!)

Nutritionist Lovisa Nillsson has shared some brilliant tips on how to make your Pancake Day guilt-free in a recent article for ElleUk. Lovisa had some delicious suggestions and being that she is a nutritionist for a health app, Lifesum, we are sure she knows what she is talking about.
Tips for a guilt-free pancake day
Lovisa discusses ways in which you can substitute your main ingredients for a more health-conscious, or nutrient-packed alternative. While pancakes call for only a few main ingredients, there are endless variations you can consider that will bring a new twist to the classic pancake.

Some of Lovisa's tips, however, can be something you have never even thought of, like adding vegetables into your mixture: "Sweet potato pancakes, courgette pancakes and carrot are only some of the nutrient-rich vegetables that are easy to play with to create healthy pancake recipes," said Lovisa. "Sweet potato and carrots are rich in beta-carotene that converts in your body to vitamin A, which is good for healthy-looking skin."
SEE ALSO: The importance of meal prep

Another key piece of advice is branching out from the traditional lemon and sugar to some more exotic, or alternative toppings. Lovisa is even a self-proclaimed savoury pancake lover: "I often opt for savoury pancakes with avocado and cottage cheese. Avocado is filled with good Omega-3 fatty acids, and cottage cheese is light on the stomach and less fattening than some other cheeses and it contains more water to help hydrate the body."

These are just some of the brilliant suggestions from Lovisa, more of which you can read in her article. After just over a month of sticking to your resolutions, by keeping a clean diet and taking time to care for your body with a detoxifying spa day in Yorkshire, we can endeavour to continue our 2018 self-love regime.
For more tips and advice, make sure to visit our blog and learn about our spa treatments before your visit to Titanic Spa.