The healthiest 'fakeaway' recipes to make at home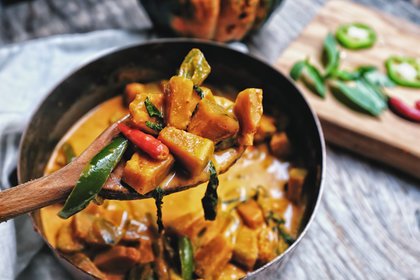 Especially as the colder nights draw in, the takeaway cravings set in and can be hard to avoid. However, our favourite takeaways are delicious but can oftentimes be loaded with salt, sugar and more unhealthy things.
If you are craving something indulgent but are trying to steer clear of unhealthy choices, why not try a 'fakeaway'? This fairly recent trend sees us cooking our favourite takeaway dishes at home, allowing us to not only save some money but also know exactly what is going into our food.
In this article, we explore some of the best, healthy fakeaway recipes you can try at home to satisfy your cravings without the extra calories as well as discovering why they are so great.
Why make your own healthy fakeaway?
You may wonder, why make your own fakeaway? Well, there are plenty of reasons why a fakeaway is a great option. For one, you'll likely save some money as you'll only be paying for ingredients. Secondly, as well as meaning your dishes are likely healthier, you can also customise them to your exact tastes. Fancy a bit more spice? Go ahead!
Finally, it gives you the opportunity to learn some new dishes at home and show off. Why not practice a dish and then serve it up for some friends or your partner and impress them with your new skill?
We spoke to Latoyah from Sugar Pink Food, who told us why she loves a fakeaway: "For me, fakeaways are the perfect way to remove the guilt from your guilty pleasures. Ordering your favourite fast food or takeaway can be heavy on both the calories and the pennies, and your favourites are easier to recreate at home than you may think. I try and have a Friday night Fakeaway every week!"
We also spoke to Pip whose blog, The Slimming Foodie, who shares Slimming World-friendly recipes. She explained: "'I love making my own fakeaways, you have direct control over how healthy the meal is, and you can swap in favourite ingredients to really tailor the meal to your own taste. Making your own is also a great money-saver!"
Discover recipes from Latoyah and Pip further on in the article.
SEE MORE: The Importance of Meal Prep
Healthy fakeaway recipes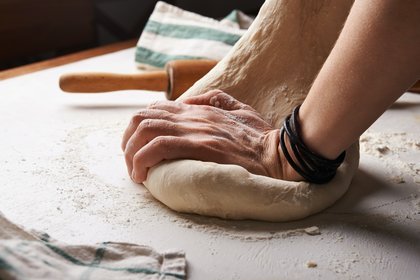 Pepperoni Passion Pizza
Now, when it comes to comfort food, what is better than pizza? Loaded with your favourite toppings and melted cheese, there isn't much a warm pizza can't solve. However, not only can our favourite pizza delivery chains load us up with salt and fat, but they can also cost a pretty penny.
This recipe by Pinch of Nom explains how to recreate the popular Dominos Pepperoni Passion Pizza in your own home, and it's wonderful for those with little ones in the house as you can make individual pizzas for each person. They even suggest some great side orders you can make up to further recreate the takeaway experience.
Dominos Pepperoni Passion Pizza recipe.
Alternatively, if pepperoni isn't for you, you can also try to recreate a Texas BBQ or Chicken Feast at home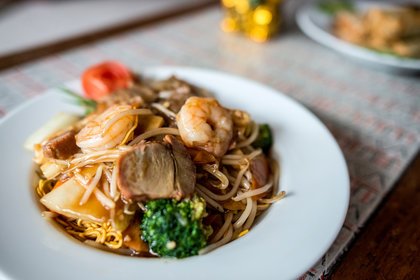 Chinese Fakeaway Platter
Chinese takeaway is one of those where it becomes so easy to over order, which is both a gift and a curse. If you like your plate to be filled with various dishes when eating Chinese, then don't fear because Latoyah has come to the rescue and offered her own recipe for recreating a Chinese platter. With chicken fried rice, chicken balls with sweet and sour sauce, salt and pepper chips, chow mein, curry sauce and even some prawn crackers, this easy to follow recipe will have you cooking up a feast!
What's more, alongside the recipe Latoyah provides all of the nutritional information you need, perfect for those who are focusing on cutting unhealthy foods from their diet.
Latoyah's Chinese Fakeaway Platter recipe.
Latoyah has a whole range of amazing fakeaway recipes on her website which you can check out here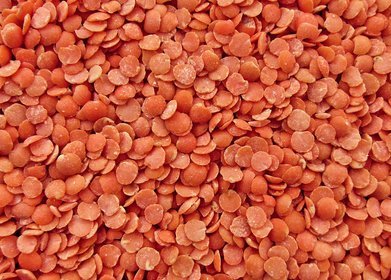 Spinach, sweet potato & lentil dhal
Especially on a cold night, a fresh curry with that kick of spice can be a great pick-me-up. Although many people have curry in their repertoire at home already, it can be the vast amount of choice a curry house can offer that makes the big difference so we found this recipe which is a little bit different.
From BBC Good Food, this spinach, sweet potato and lentil dhal is an easy one-pot meal and totally vegan – no animal products and no washing up! Perfect for cooking on a weeknight, this dish is not only delicious but also gives you three of your five a day!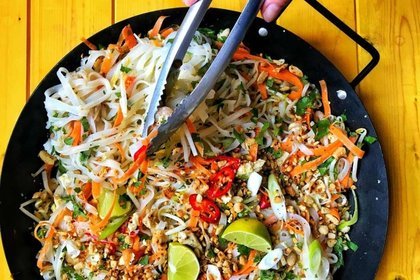 Pad Thai
With a mixture of sweet, sour, crunchy and soft, Pad Thai is a great takeaway dish that offers everything you need for an indulgent meal. What's more, when being made at home, it's a quick and simple dish to prepare, giving you more time for laying back and relaxing. This recipe from The Slimming Foodie only takes 30 minutes in total to prepare and is totally customisable, meaning if you want more spice or more veg you can do that easily.
Never tried Pad Thai? It's easy to get hooked, as Pip explains "after the first time we ordered Pad Thai, it was the only takeaway that we ever had in the five years that we lived there, it was just SO GOOD!"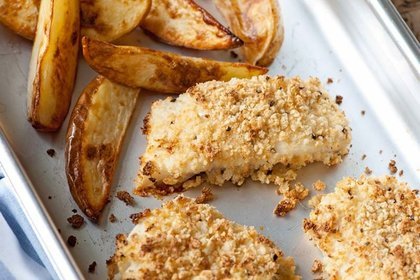 Fish and Chips
It's a cold, Friday night and there is only one thing most people are craving, fish and chips. With warm, fluffy chips and a crispy on the outside tender on the inside piece of cod, it's the perfect Friday night supper. But all fried in oil, it's no surprise this isn't the healthiest preparation of this dish.
This recipe from the NHS as part of their Change 4 Life scheme explains how to make a healthier version of this beloved dish at home but keeping all the flavour. Instead of a crispy batter, the fish is coasted in a crunchy and flavourful breadcrumb mixture giving it a unique and even more delicious twist.
The healthiest 'fakeaway' recipes to make at home:
- Pepperoni Passion Pizza
- Chinese Fakeaway Platter
- Spinach, sweet potato & lentil dhal
- Pad Thai
- Fish and Chips
Whether you try your hand at recreating a pizza, or fancy a curry, we hope these recipes can help curb your craving for a takeaway and can add some new dishes to your arsenal. If you are looking to treat yourself, why not consider a spa break in Yorkshire? With relaxing treatments, wonderful facilities and more, you'll certainly feel rejuvenated and refreshed.
For more wellness tips and advice, make sure to visit our blog