Food pairings to boost your metabolism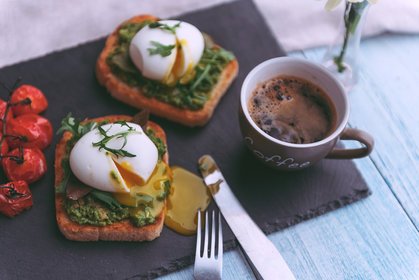 The weight loss industry is an ever-growing force around the world. Although we are all aware that there are no shortcuts to healthy weight loss, there are ways that you can aim to boost your metabolism. Your metabolism determines the speed at which your body can burn calories, and while simple methods like exercising more and getting a good night's sleep can help, recently the world has become obsessed with superfoods.

In a recent article, Lyndi Cohen, a dietician from Australia's Gold Coast, explained: "All foods increase your metabolism to some extent, some foods provide more of a boost than others", but she also revealed how some food pairings can complement one another to make a brilliant pairing for weight loss.
Eggs and Coffee
"Caffeine not only helps you to concentrate better, but it can also suppress appetite and help to supercharge your workouts, which is great news for your metabolism," Cohen said. "Meanwhile, eggs are an excellent source of protein, helping to fuel muscle growth needed for a healthy metabolism.
Oats and Seeds
Oats and seeds have long been sworn by as superfoods and been added to smoothies, breakfast lunches and brunches wherever possible. Cohen claims: "Both plain rolled oats and seeds are loaded with fibre, which speeds up your metabolism and reduces the number of calories your body absorbs."
SEE ALSO: The tastiest ways to stay hydrated
Chicken and Chilli
A great lunchtime treat, chicken and chilli are Cohen's next dream pairing. Chicken has long been revered as a brilliant source of natural protein, but the chilli brings another, fiery side to this dish as Cohen explains: "Chilli's contain capsaicin, which when consumed in large enough doses, can speed up your metabolism."
Chickpea salad with yoghurt dressing
If you are looking to even focus your evening meal on weight loss and keep it light, a great dinner option is a chickpea salad with yoghurt dressing. "Yoghurts contain the most probiotics compared with other foods, probiotics will help you to develop healthier gut microbiota," which Cohen claims is key to a healthy stomach.

In between your spa breaks in Yorkshire, you can look at maintaining a healthy body by whipping up a storm in the kitchen and looking into superfood pairings.
For more tips, news, and advice, make sure to visit our blog and learn about our spa treatments before your visit to Titanic Spa.