Eco-friendly swaps for everyday items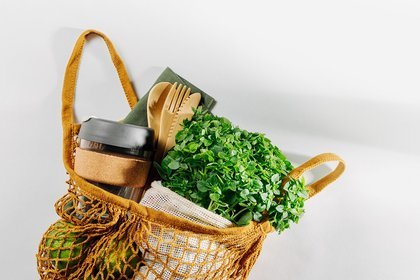 Switching to an eco-friendly lifestyle should be on everyone's to-do list, but when faced with actually making the change, it can be tricky to know where to begin. Luckily for you, it's not as hard as you may think as there are many easy swaps you can make each day that will make all the difference to the planet. In this guide, we showcase some of the eco-friendly swaps you can make in your everyday life.
Swap your plastic toothbrush for a bamboo toothbrush
Although brushing your teeth may feel like an insignificant part of your day, plastic toothbrushes can cause significant damage to the planet, with each person estimated to use 300 in their lifetime and each toothbrush taking up to one thousand years to decompose. So, swapping your toothbrush will certainly be worthwhile and, as the awareness of plastic pollution increases, there are plenty more alternatives on the market.
Kate from the eco-lifestyle blog Ethically Kate shares her eco-friendly swaps: "Start simple, start with your toothbrush! A bamboo toothbrush is a great item to start with that gets you thinking about more changes every morning and night. It's a great gateway item that leads to so many more eco swaps."
Swap single-use bottles and cups for reusable flasks and bottles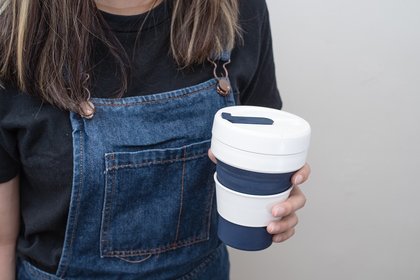 On your way to work, lunch break or whenever you're out and about, it's easy to buy a coffee or a drink to quench your thirst, but something as simple as bringing your own keep cup can have a long-lasting effect. Invest in a reusable flask or cup to carry with you wherever you go. Plus, most cafés on the UK high streets will give you added perks for taking in a reusable cup – all the more reason to make the swap!
Kate adds: "My collapsible mug (from a New Zealand company called The Rubbish Whisperer) is also a lifesaver. I don't drink coffee, but I use it for ice creams, chai lattes, and taking my leftovers home after meals out. A reusable drinks bottle is also essential to any eco-warrior's life; mine is from Yuhme and made from sugar cane."
Swap single-use razors for reusable bamboo razors
With people only using razors four or so times per purchase, billions of razors are thrown away each year. Charlie from the team at Life before Plastik, a UK based plastic-free shop, tells us: "I recommend a reusable bamboo razor; it's crazy to think about how many razors I used to throw away. The shoreline shaving kit has everything you need in it, leaves you with a close shave and is plastic free so there's no eco-anxiety. Ideal."
Charlie also shares her top tip: "If you're just starting your plastic-free eco-friendly journey, my biggest recommendation is to do it step-by-step, room-by-room. Let's say you start in the bathroom, get yourself a bamboo toothbrush, a shoreline reusable razor, organic toothpaste in a jar, and something simple like a natural soap bar instead of a shower gel. Then once one room is complete, move onto the next. Trust me, small, simple steps will make the journey seem like a piece of cake."
Swap plastic soap dispensers for bars of soap
Next time you're restocking your hand soap, try an alternative. Opting to embark on this swap will even save you money, as bars are generally cheaper to purchase and last longer than plastic dispensers. We spoke to Emma Reed, who blogs about motherhood and lifestyle with an eco-conscious edge, about her recommendations: "Swapping from liquid soap in a plastic dispenser to a bar of soap is probably the easiest change that every household could make, especially if you are just starting out on your eco journey."
Plastic shampoo bottles for shampoo bars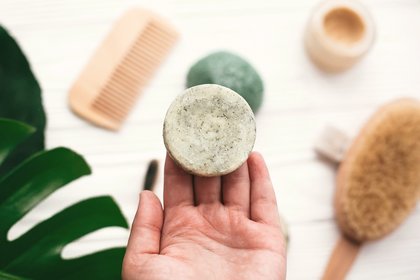 According to Recycle Now, an average of 35.8 million plastic bottles are used every day in the UK, 16 million of which are not recycled. Shampoo, conditioner and any other bottles that line your shower fall under this umbrella. However, there are plenty of plastic-free products on the market these days that won't jeopardise how you want your hair or skin to feel.
Charlie from Life before Plastik continues: "My ultimate favourite plastic-free swap is my shampoo bar. I can't actually remember what life was like before I was using it. It's a completely natural eco-friendly product and the acai berry shampoo bar is great for revitalising my hair."
Rebecca from Eco Beau, an online store for products that have minimal waste, shares her thoughts: "The bathroom is also a great place to start. From bamboo toothbrushes, soap bars and shampoo cubes to reusable make-up pads and traditional reusable razors, there are lots of sustainable options available."
Swap clingfilm for beeswax wraps
Wrapping and covering your food with clingfilm is undeniably convenient; however, it is one of the main culprits of avoidable single-use plastic. Emma suggests a swap: "Clingfilm is a big problem as it cannot be recycled and we brits use it to cover multiple things within our kitchen. Instead, why not simply place a plate over the top of an open dish? Or cover it with a cloth held on by an elastic band? Otherwise, why not give beeswax wraps a go? All are very simple, yet effective."
Beeswax wraps can be found in most supermarkets or online at places such as Amazon. The price may seem a lot compared to usual clingfilm, but bear in mind beeswax wraps can last up to a year.
Single-use wipes and nappies for washable wipes and nappies
Nappies account for 2-3% of household waste, the BBC revealed, the majority of which is unable to be recycled and ends up in the sea, landfill and general waste bins. Similarly, single-use wet wipes or make-up remover wipes are often made of non-biodegradable plastic.
Emma tells us more: "My favourite eco-friendly swaps have to be to reusable/cloth nappies and wipes. Not only do disposable nappies contain chemicals and perfumes they also contain plastic and will, therefore, sit in a landfill for around 500 years.
"The majority of ordinary household and baby wipes are made from 87% plastic and will also take hundreds of years to break down. Reusable nappies are not as scary as you may think. They are far from the old-fashioned terry towels and are now easy to use, come in a variety of options as well as gorgeous designs. As for wipes, these can be anything from an old piece of clothing, cut up flannel, or you can purchase readymade ones. The joy in both is that once they are bought, that's it. You can use them repeatedly, saving a huge amount of money as well as preventing more waste in the world."
Sarah, a family blogger from Toby Goes Bananas, also recommends this: "If you have young children, then one of the best eco-friendly swaps you can make is to use reusable cloth nappies and wipes. We used them with both our children and saved thousands of disposable nappies from landfill. Now the boys are older, we still use reusable wipes for hands and faces, and to clean up any spills."
Swap food shopping for growing your own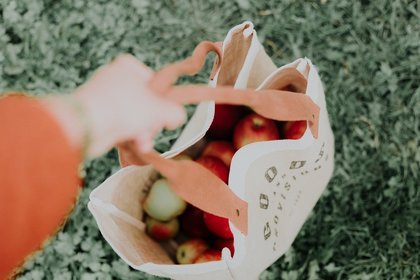 This is another eco-swap Emma has made: "If you have the space, either in the garden, garage or on an allotment, you could give home composting a go! Rotting food sitting in landfill is a huge greenhouse gas contributor so composting it yourself will have a positive impact on global warming. You can also reduce your meat intake, grow your own fruit and veg, walk or cycle more, buy more items second-hand, reuse what you already have, take your own bags to shops, look for food that has been produced here in the UK, as well as not choosing produce wrapped in plastic and buy food that will be used and not wasted."
As you can see, there are plenty of small eco-swaps you can start making in your day-to-day life that will massively decrease the impact you have on the planet. Even when planning a holiday, you can try to make an eco-friendly decision by treating yourself to eco spa breaks in Yorkshire and start your commitment to helping the environment.