Easy yoga and Pilates workouts to do at home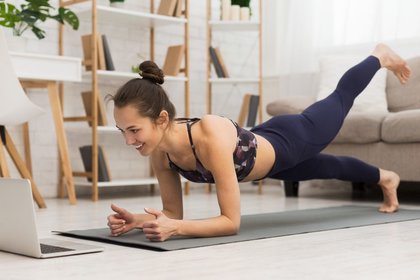 Yoga and Pilates workouts come with a plethora of benefits for our mind, body and our soul. During a time like this, learning yoga and Pilates can be a wonderful way to keep your body moving, keep your mind active and reduce stress and anxiety.
Sandrine from Sandrine's Pilates tells us the benefits of keeping active with yoga and Pilates: "During this uncertain period, the new rules of life can pull our mental health into a damaging downward spiral. Exercise has been proven to have benefits for the mind that will lower stress, reduce feelings of isolation and help ease anxiety and depression."
Carry on reading to find some of the best online yoga and Pilates workouts perfect for everyone from beginners to stretching experts.
Pilates for Beginners with Jessica Valant Pilates
Jessica Valant is a Pilates teacher and physical therapist and offers her experience in classes on YouTube and top tips over on her blog Jessica Valant Pilates. Jessica describes her philosophy: "I believe there is power in movement and that movement is power. This includes actual physical movement as well as movement of the mind and changing of our beliefs about ourselves."
Her YouTube channel offers a selection of Pilates workouts for those of all abilities, from the beginner's workouts featured above to post-pregnancy workouts and quick 5-minutes ab blasts.
If you're looking for a full-body introduction to Pilates and free movement, her Pilates for Beginners workout is the best option for you.
30-minute Pilates routine with Lottie Murphy
If you're after a Pilates workout that focuses more on stability and the core muscles, this 30-minute workout from Lottie Murphy is the perfect introduction into toning and controlled movements.
Although only 30-minutes, this relaxed workout combines strengthening movements with time and space to relax and unwind, loosen up and clear the mind, perfect during a time like this.
Lottie's website shares some more information about her: "Lottie has practised Pilates since the age of 16 and fell in love with it whilst practising daily at Ballet college where she trained intensely for 3 years. It was her dedication to Pilates which allowed her to remain uninjured, fit and healthy for a whole 3 years of intense training."
Charles Pearson Yoga
Charles Pearson qualified as a yoga teacher in 2019 and now offers online and offline courses to yoga enthusiasts. Explaining more on his website, Charles Pearson Yoga, Charles says: "Since qualifying in early 2019, I have been teaching as much as possible. I just love it. First, I taught alongside a full-time role in market research - the industry where I spent 30 years working within. Then at the end of 2019, I retired from the market research industry to dedicate myself to teaching yoga full time."
Charles offers a range of online yoga sessions that are perfect for those wanting an introduction to yoga during lockdown. 7 online weekly courses take place Monday through to Friday, for more information about class times and how to join, you can head to his online schedule.
Charles' classes concentrate on Hatha and Yin. Hatha focuses on the emphasis of physical movements and concentrating on the breathing, whilst Yin looks to stretch the joints through passive movements.
Charles explained a little more about why his yoga workouts are great for trying at home: "There is no better time to practice yoga than during this period of lockdown and social distancing. Practising yoga within a gym or yoga studio will not be feasible for a very long while, as social distancing in most cases will be impossible to implement as well the financials associated with limiting the numbers per session will make it unviable. Yet there is another way which has been discovered anew or rediscovered, that is practising online.
"Also, now more than ever yoga is needed, as we are more anxious about our health and have serious concerns about our health care infrastructure and the broader economy. Yoga sessions are designed to move all parts of the body, especially the spine, in all directions, plus strengthen and stretch the muscles with the ultimate objective being to find comfort and space in our body. When we do so, we are able to fully relax our body and our mind without as much distraction. Our breath is fundamental to helping aide this process, as yoga forces us to focus on our breath and use our breath to find this more relaxed and comfortable state of body and mind."
Yoga for Complete Beginners with Yoga With Adriene
A guru many of us will think of when we think about yoga, Yoga With Adriene has boomed since the lockdown and her yoga plans have been a choice for many to get their bodies moving.
"Adriene Mishler is an actress, writer, international yoga teacher and entrepreneur from Austin, Texas. On a mission to get the tools of yoga into schools and homes, Adriene hosts the popular YouTube channel Yoga with Adriene, an online community of over 7 million viewers. Yoga with Adriene provides high-quality practices on yoga and mindfulness at no cost to inspire people of all ages, shapes and sizes."
Adriene offers a Yoga For Beginners class on her YouTube channel that welcomes people of all abilities to a short 20-minute session. This class aims to give you the foundations and tools you will need to get your yoga journey started.
Sandrine's Pilates
Sandrine's Pilates is a hub for lovers of Pilates and is the base for 8 talented instructors all offering a selection of tailored classes that have are now being hosted online for those at home to get on board with.
"Since the lockdown, we have created live classes where people from all over the world can connect and exercise together every single day. It helps people not just physically but mentally too. They feel better in their body and it creates a new routine with other people so they are not alone and builds a great sense of community even though it is online."
As spa weekends in Yorkshire aren't feasible at the moment, finding new ways to relax and unwind is essential. Take a look through some of the yoga and Pilates workouts detailed above that are perfect to get you started at home and you'll be a professional before you know it.