Productive home office ideas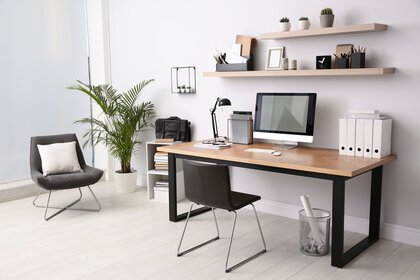 As working from home has become the norm for many of us over the past few years, we've seen our spare rooms, bedrooms, dining room tables and sofas become our offices. However, with working from home set to be a lasting reality for many, taking the time to look at some home office inspiration and create a space that allows you to be your most productive is essential for long-term success.
In this article, we explore some home office décor ideas to establish how to make your space as productive as possible.
Create a space where a room isn't available
Not everyone that is working from home will have the luxury of having their own office space, so focusing on the small space around you is the best place to start. If you are working in your living room, at your dining table or on a laptop on your sofa, then you don't need to worry about changing the whole space around you to incorporate an office area, just start small.
Block Design comments on this point a little further on their website: "Unfortunately we don't all have a handy spare room to transform into a fancy home office. But it can be easy to create a designated home working space with just a few small updates. If you can, section off part of your dining room or bedroom, finding an area of your home that can be easily kept organised and quiet. Keeping clutter away from your desk for a more fluid workflow and clear mind. But adding some of your favourite objects to the space will make you feel happy, inspired and motivated."
This way, you'll have one area that's dedicated to work and won't feel as though your work life is encroaching on your personal space. Equally, it means that during the working day you're less likely to be distracted or tempted to complete home tasks. You could even look at small home office ideas like a foldaway desk if you are really limited for space.
Reduce clutter as much as you can
Whether you have an office room or a desk in the corner of another room, making sure you reduce clutter is essential. After all, they say clear space, clear mind and the last thing you want are unopened letters cluttering up your desk space or laundry on your chair to contend with.
The Muse describes how a cluttered desk can detract from productivity on their website, reporting: "While sticky notes can be a helpful tool, extra books, piles of paper, or cups half full of lukewarm coffee will strongly detract from your productivity, not to mention your concentration. You don't want your desk to be empty—don't stow away your pen if you'll be picking it up again today—but giving yourself space to work allows you to have space to think as well."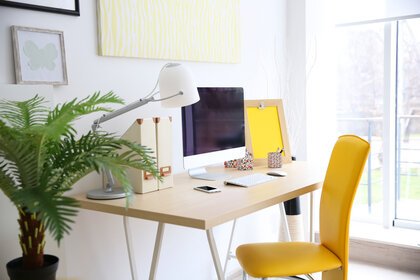 Introduce plants and greenery
Your workspace isn't complete without a few plants and flowers. Plants and succulents are one of the best ways to clear the mind and ensure you are working at full capacity. You don't have to add the plants directly to your desk, place them in areas around the room, from the ceiling, on a bookshelf or just on the floor, they have the same positive effects either way.
Fake plants are great for offices and working spaces as you don't have to worry about keeping them hydrated, alternatively, you could add succulents like cacti which are also very simple to keep alive.
Embrace natural light where possible
Natural light is one of the first rules of working from home. Making sure your room is full of natural light is essential to a great working environment. Place your desk at a window or make sure you choose a naturally lit room and keep the curtains open as much as possible.
"Ideally, you should find a working spot with lots of light – this will not only save on your electricity bill but will also boost your mood. It's scientifically proven* that exposure to natural light in an office will increase your productivity, health and overall wellbeing." Ideal Home reports on their website.
Whether you don't have room next to a window or find that the short British days affect your mood, you could also try to add a natural feeling light fixture like a desk lamp to illuminate your workspace, this is especially useful if you don't work on a screen to stop eyestrain.
Personalise your space
After all, this space may be the area in which you're going to work but it's also in your home and should represent you so feel free to personalise your space. This might mean making a gallery wall with images of your friends, family and favourite places to inspire you and make you smile throughout the day. It might mean looking at some interior design ideas to create a background wall if you do a lot of video meetings and want to look professional. Whatever it is, it should be something the makes your space feel like your own, and not simply a neglected office room you just use from 9 to 5.
Productive home office ideas:
- Create a space where a room isn't available
- Reduce clutter as much as you can
- Introduce plants and greenery
- Embrace natural light where possible
- Personalise your space
With these productive and modern home office ideas, you'll be able to create an area where you can be focused and give your full attention to the task at hand.
When working from home, it can be hard to disconnect and turn off at the end of the day as you never get the transition of leaving the working space. If you find you are struggling to unwind, why not take a look at our spa breaks in Yorkshire? Take some time to yourself, get pampered and relax – after all, you deserve it.
For more useful articles and guides, check out the Titanic Spa blog.