How to continue your lockdown fitness habits into "real life"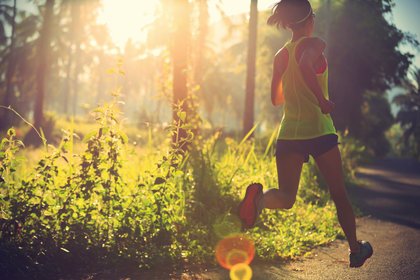 Whether lockdown has given you an opportunity to expand your existing passion for fitness, or you have picked up a brand new sport, many people have found that they have been able to be more dedicated to exercise during the beginning of 2020. However, as we start to return to "real life", our routines will naturally get busier and we may fall back into old habits, no matter how much we try not to.
If you've found a new passion for fitness during lockdown, and are worried it may slip away as day-to-day life becomes busier, these tips can help you continue your lockdown fitness habits.
Set a routine and stick to it
When life starts to get in the way, it can be easy to let go of the little things we love to do in order to make more time for tasks we feel we must complete. However, fitness and exercise are a key component of a happy life, and although they may take some time out of a busy schedule, what they offer for our mental and physical health can more than make up for it.
Because of this, if you are able to create a set routine then you should. If you work a more traditional role with set hours, knowing when you'll carve some time out each week for exercise, whether that's three runs a week or just giving yourself 15 minutes in the morning to complete a yoga flow, will offer you time to work on yourself. The important thing is, when you have this routine, stick to it and try not to let anything stop you from completing it.
Gemma, from Life's A Catwalk, told us this is how she intends to keep running: "I rediscovered my love of running during lockdown. I had so much extra time and was only leaving the house to exercise. For me routine is key. I now commit to pulling on my trainers 2-3 times a week and setting aside that time has guaranteed I stick to it."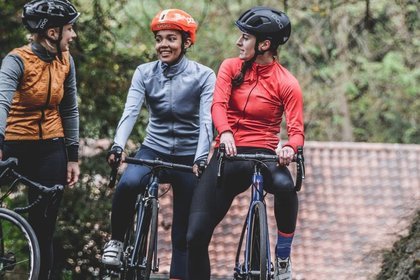 Try exercising with other people
During lockdown, you would have found yourself exercising solo, or perhaps with other members of your household. But as lockdown rules start to lift, you can open up your circle to more people. Whether you look to join a local club, consider competing in events or just link-up with a few friends or colleagues to train together, you can start to make your exercise more social. This can help to give you a new passion for fitness, and it is also a great way to socialise with others in a healthy and positive way.
Treat yourself to a spa day
It's important to relax, and with great exercise comes some great recovery. For the day-to-day fitness enthusiast, being able to know when to take a break and let your body recuperate is essential to progress. And, overdoing it can mean that you hurt your body and won't get the results you are looking for.
If you've been unwinding at home and soothing your muscles with a long bath or perhaps a DIY spa evening, why not enjoy the real thing? With our spa days in Yorkshire, you can enjoy a luxurious pamper and give your body the treat that it deserves.
Continue healthy habits
It's not just our conscious-fitness that may have improved during this time too, but also our passive-exercise may have increased without us even really realising. Whether we've opted to walk more in lieu of hopping on public transport or have just been playing in the garden with the kids more than usual, it's likely you may have found passive ways to burn some calories. If we can identify these, we can try and keep them going.
Petra, from A Mum Reviews, suggested: "During lockdown, many of us have avoided public transport like trains and buses and instead used our legs (or bicycles) to get where we needed to go. As lockdown eases, keep up your walking habits and enjoy the health benefits of being active in your everyday life."
Emma, a blogger at Em's Mixed Bag, also found a way to introduce a little bit of exercise into her everyday routine: "About 12 months ago I bought a fitness ball, which has sat in my spare room untouched... until lockdown! It is now currently serving me well as an office chair and I have noticed a huge difference in my legs, and bum! This office chair with a difference is most definitely sticking around and if I have to go and work back in the office, it is coming with me!"
Laura, from A Life with Thrills, has found just how much she is able to do by herself: "One thing lockdown has taught us is just how many things we can actually manage to do from home. Fitness is one of those. Even when gyms do re-open, you can still save money and save time by continuing to exercise at home."
Melanie from Two plus Dogs has found online classes to be a salvation during lockdown: "Pre-lockdown, I tried to get to the odd yoga class but working as a teacher having a long term back injury made this really difficult. During lockdown I signed up for a fitness app. I made sure that I took an online class most days, just 20 minutes, and gradually got stronger and better at the postures.
"Now, post lockdown and a few months in, I am really motivated to continue and am taking the intermediate classes. My back? It is pain free! I feel calmer and more focused and I put that down to continued, regular yoga. A real personal positive to come out of a strange and challenging time!"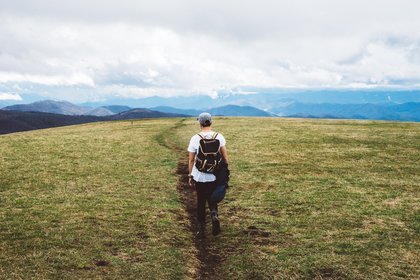 Don't let it become a chore
Being kind to yourself during any period of change is important, and this one more than ever. The beginning of this year has been hard and overwhelming for many, and although exercise may have been a shining light it doesn't mean that all aspects of life have been that way. When you start to return to the 'new normal', be sure to be lenient with yourself and make sure you are enjoying the exercise you are doing.
With a more stressful routine, it can be much harder to get yourself out of the door in the free time you do have to do something when that happens. And even when you do get out of the door you may not be able to switch off and fully dig-in like you have been able to before.
Sarah, from Voluble Blogger, told us: "Prior to lockdown, I struggled to use my gym membership for more than one session a week. But I knew that my fitness would only get worse during lockdown. So, I began with online fitness classes and then once allowed, ventured on a daily walk. Some days, I would power walk and others enjoy a leisurely stroll. I think it's important to enjoy the exercise you do so that it doesn't become a chore."
Discuss your passion with those around you
Letting those around you know about your intentions and how vital exercise has been for you, especially if before lockdown you weren't someone who frequently exercised, can be a really important step. If you are someone who before lockdown didn't make a habit of exercising or did so privately without sharing, now is a great time to tell others what you have achieved and what you love about it.
When trying to fit fitness into your routine, you may find that those around you who don't understand its importance to you and your motivation, feel as though you wouldn't mind skipping a session or a day, or not encourage you as you would like.
Rachelle Strauss, a health and wellness coach at The Health and Wellness Grid explains how knowing your motivation can be such an important factor in continuing to exceed: "One of the best ways to put a new habit in place is to figure out your 'Big Why'! This means looking deeply into WHY you want to do something, because if it's simply a case of 'my partner keeps nagging me' or 'I really should...' then you can guess the rest of the story! But if you have something that really fires you up - perhaps wanting to lose weight for an upcoming event or so that you can run around playing with your kids - then you're more likely to stick at it."
By knowing and sharing that motivation, those around you will be able to support you better on your journey and encourage you to persevere.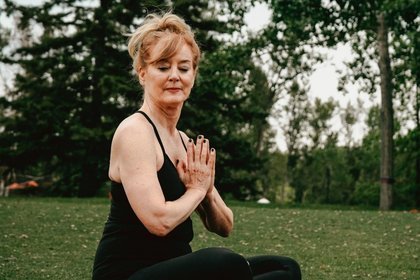 Become more mindful
Mindfulness involves talking to yourself, and your body, and finding out what is working for you and what is not. It's taking the time to gauge your reaction to things, and this is a wonderful time to become more mindful. Take the time to sit down and consider the real impact lockdown has had on you, and whether the exercise that you've been doing has been fulfilling you or improving your mental health. You might find it has done so more than you know, spurring you on to continue.
This was Rachelle's top tip to us. She recommended that everyone: "look back at the exercise you've been doing and notice how you feel. What benefits are there? You might feel more energised, be less irritable with your family, feel better when you look in the mirror, be feeling healthier - it doesn't matter what it is, it's what's important to YOU that counts.
"Once you have those benefits in mind, use them as your motivation whenever you'd rather sit on the sofa or eat takeout, rather than get your trainers on! And make exercise a priority. Grab your diary now and schedule in your exercise, rather than waiting for an opportune moment to appear."
Vicky from I Beat Debt explained the impact that walking has had on her during lockdown: "I am not a regular exerciser, and I live alone. During lockdown I have also been working from home throughout so during lockdown my daily walk became essential for my mental health. Even seeing people at a distance was some sort of comfort, and when I was having a bad day and couldn't face going out, I always found that the fresh air helped. That walk is still key for my physical and mental health and seeing the difference it made to me has helped me to keep it going."
Lucy from Real Mum Reviews can also see the benefits that running has had for her: "I started Couch to 5k just before lockdown and over the last 5 months I've taken part in a number of virtual running challenges. I've set my alarm early and headed out before the kids wake up, so I get that alone time and quiet before the day begins.
"I've seen huge benefits to my fitness levels and mental health, and I plan to continue these morning runs even when the schools go back. Now I'm set to be working from home for the foreseeable future, remaining physically active is more important than ever."
Robbie, a blogger at Paternal Damnation told us how him trying to keep his children exercising impacted him: "While home-schooling my kids, we started watching the Yoga videos. As any sort of routine soon fell by the wayside, they stopped watching the videos. I carried on though and soon started incorporating yoga techniques into my daily workout.
"I now find that I'm getting injured much less frequently and have become more flexible too. It's certainly something that I'll carry on practising post-lockdown."
Whether it's lack of injury, improved happiness or just having some real me-time, whatever your motivation, identifying that and keeping it in mind is vital.
How to continue your lockdown fitness habits into "real life":
• Set a routine and stick to it
• Try exercising with other people
• Treat yourself to a spa day
• Continue healthy habits
• Don't let it become a chore
• Discuss your passion with those around you
• Become more mindful
If you've found exercise to be a lifeline to you during lockdown, we hope that these tips can help you to continue that when your routine starts to return to normality. And, when you are ready to relax and treat yourself and your body, we hope to welcome you to our Yorkshire spa.
For more wellness tips and advice, make sure to visit our blog.