The best nutritious snacks you should be eating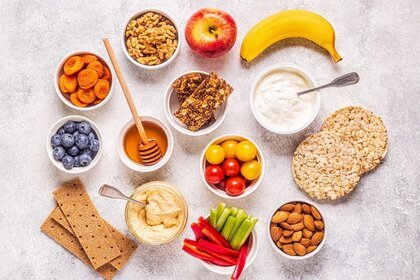 Whether you're looking to fill a gap between meals or want to be inspired with new small meal ideas then you've arrived at the right place. Snacking can often be frowned upon but there are so many delicious snacks that don't have to be accompanied with guilt and regret and are equally as delicious.
Looking after our body is extremely important and you may well book spa weekends in Yorkshire to look after the outside of your body, so trying out some of these healthy snacks is a great way to look after the inside of your body. Keep on reading to find out what delicious and equally nutritious snacks we would recommend, along with recommendations and suggestions from nutritionists and lifestyle bloggers.
Small fruits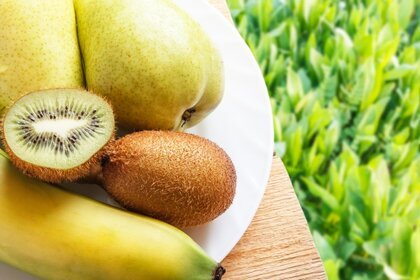 The team at The Healthy Gourmet recommends simple small fruits as a quick and nutritious snack between meals: "There are several options for a healthy in-between meal snack. The first and easiest one, especially if you are experiencing a blood sugar dip is to have small fruits like a mandarin, kiwi, pear or a peach that will give you that bit of sugar and all those extra vitamins and antioxidants."
They explained how fruits are often packed full of antioxidants and vitamins that you may otherwise struggle to consume within your daily meals, another great benefit of grab and go fruits.
Yoghurt and granola bowls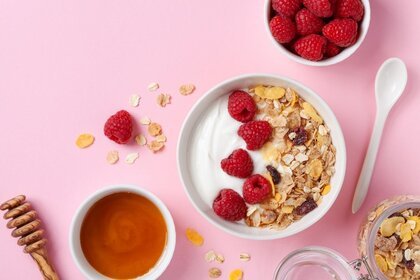 Yoghurt and granola bowls are our next recommendation which also double-up as a great breakfast or brunch option for those who enjoy a filling and nutritious start to their day. The beauty of yoghurt and granola bowls is that you can adapt and change them to suit your preference. You could choose nutritious Greek yoghurt or flavoured yoghurt, accompany it with red berries, chocolate granola and honey or something more refreshing like orange, banana and blueberries with organic nut granola.
"There are other options too, that can offer a more balanced choice providing extra nutrients like proteins and healthy fats," the team at The Healthy Gourmet continues. "A full-fat natural yoghurt with some mixed and almonds for example is delicious and will provide some proteins, healthy fats, carbs, vitamins and minerals with a bit of natural sugar to keep you full for longer."
Great yoghurt bowl toppings:
Red berries
Banana
Nut granola
Dark chocolate granola
Honey
Peanut/almond butter
Chia seeds
Hummus and vegetables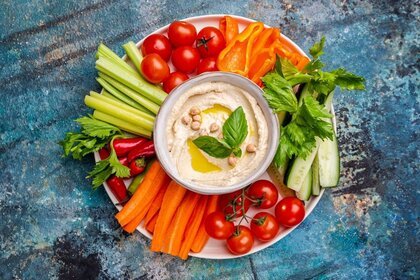 Hummus is a popular snacking dip and is made out of chickpeas blended with tahini, garlic and salt and pepper making it relatively low in calories when comparative with other dips on the market. A lovely way to serve hummus is with a platter of sliced vegetables as The Healthy Gourmet explains: "Another healthy choice is homemade hummus with some raw or roasted vegetables or a small wholemeal toast. Hummus is rich in healthy fats, vegetable proteins, complex carbs and a wide array of vitamins and minerals that will keep you full for longer and nourished for your day."
As explained, hummus and the vegetables that accompany it are highly nutritious due to their natural fats, carbs, vitamins and minerals, they also look colourful and creative which of course, makes them taste a whole lot better.
The Healthy Gourmet also goes on to explain how it is very simple and easy to make hummus from a selection of other vegetables: "Hummus can be made with a wide variety of vegetables too, and my favourite recently is cannellini beans hummus with grilled asparagus."
Dark chocolate and almonds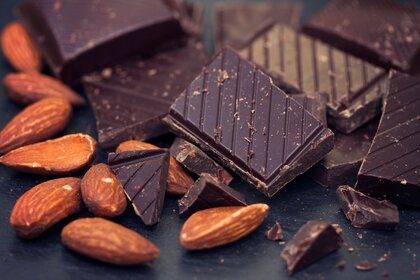 Some may think that chocolate isn't a nutritious snack, but in moderation, chocolate can actually be of great benefit to our bodies. Dark chocolate is full of antioxidants and is said to improve brain function, accompanied by a few nuts it can be a really nice snack.
You can accompany a few squares of dark chocolate with a selection of different nuts including almonds, walnuts, peanuts and cashews to name just a few. Nuts are packed full of goodness, as the BBC Good Food website reports on their website: "Packed with protein, fibre and essential fats, nuts are one of this season's best buys. A golf ball-sized portion (about 30g) of unsalted nuts makes a vitality-boosting snack and, unlike most other options, contributes a mix of valuable vitamins and minerals."
Mrs Rachel Brady from the similarly named blog loves snacking on nuts and granola when she is feeling a little peckish: "Just good old nuts and raisins are great. Keeping a bag of trail mix or almonds in your bag when your own is a great idea to stave off hunger pangs."
Apple and peanut butter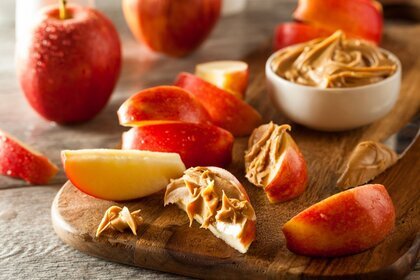 Apple is a universally loved fruit that is extremely versatile when it comes to snacking and cooking. This snack option is apple served alongside peanut butter, as peanut butter is also a nutritional snacking option due to the large number of nuts that can be consumed within a few tablespoons as well as it being a great source of protein.
There are a few variations of nut butters that can accompany apples and other fruits including banana and pears, some of these being almond butter, cashew butter and coconut butter. Rachel offered some more recommendations for those who enjoy nut butters: "I love using nut butters and have been known to go straight into the jar with a spoon! How about a medjool date stuffed with almond butter? Or apple slices with peanut butter?"
Snacking is a great way to get in lots of nutritional and beneficial vitamins and minerals into your body. Why not try getting some of these into your diet over the coming days and add a little extra nutrition into your daily intake.
The best nutritious snacks:
Small fruits
Yoghurt and granola
Hummus and vegetables
Dark chocolate and almonds
Apple and peanut butter