5 ways activated charcoal can benefit you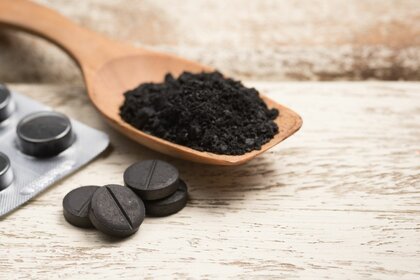 When you think of charcoal, you may think of BBQs and roaring fires, but it can also have significant benefits to your health and wellbeing with very minimal effort.
In this article, we uncover the ways you can apply, consume, and use charcoal to experience extra benefits you may not have known existed.
Teeth whitening
Activated charcoal has become increasingly popular over the last 12 months and one of the reasons its success has soared is the teeth whitening attributes it can produce. As seen, all over Instagram, more and more people are jumping on the charcoal bandwagon and using it within their daily teeth brushing routine to whiten their teeth.
Charcoal, in particular activated charcoal, has adhesive qualities that may sound scary but can easily remove stains, tartar and bacteria from small areas of the mouth that your brush may not otherwise reach.
Mommy Potamus recently quoted on her blog: "Activated charcoal is like a Swiss Army knife for natural living – it's used in hospital emergency rooms to treat poisoning, helps with itchy bug bites, and is even used in water filters to remove bacteria, heavy metals, and other stuff.
"It can do all these things because it's highly adsorptive – that's not a typo, although very similar it's not the same as absorption. Basically, instead of soaking things up, it binds certain compounds to its surface like a magnet."
We also spoke to Emma from What Emma Did about how she uses charcoal: "I've used activated charcoal powder for teeth whitening; I have dipped my toothbrush in and brushed my teeth with it for a natural whitening effect."
Skincare
The All Natural Soap Co, a maker of homemade soaps, shampoos, and men's skincare, explain why they include charcoal in some of their products:
"We know it seems counter-intuitive to try and get rid of dirt with a soap that's black, but we promise it is fantastic for the skin. The black colour comes from the addition of cosmetic grade charcoal, which has been known for centuries to help draw impurities out of the skin.
"When coupled with a special blend of essential and base oils known for their toning and binding properties, your skin will be 'deep down clean' and as good as new. The scent is also fantastically fresh and slightly floral in character and really helps make you feel regenerated. Suitable for frequent use on the face by those with oily skin. Normal to dry facial skin generally likes this soap for a weekly deep clean."
The constant voice of society telling us that we need to take care of our ever-ageing skin is now persuading us that charcoal is the way forward, but does charcoal skincare actually work? According to Holland and Barrett's recent article, activated charcoal can have positive effects on acne, oily skin, blackheads and reducing the look of open pores.
Emma also mentioned that she has been trying out charcoal within her skincare routine for a while:
"I've been aware of the charcoal craze for a while, and to introduce myself to it, I tried out a charcoal soap which I used twice a day instead of my usual facial cleanser. I was keen to try this out as I had heard that using cleansers that are packed with charcoal powder have the ability to purify and detoxify and do this in a totally natural way. The reason I opted to try a charcoal soap is that it's also a time-saver since it exfoliates, moisturises, and acts as an antibacterial all-in-one wash. So far, so good!"
Much like other masks and sheet masks on the market, applying a charcoal face mask, using a cleanser with charcoal beads or creating your own DIY body scrub are all great ways to slowly introduce it into your everyday routine. Charcoal masks help remove impurities, absorb oil and leave the skin looking and feeling amazing. It is also great for many skin types.
"I've recently introduced charcoal into my beauty routine after reading about the benefits online. I started using it after charcoal face masks went viral and I wanted to see what the fuss was all about. It's perfect for unclogging your pores, which was something I really struggled with." says Sam from Strawberry Squeeze.
Sam continues: "I've started using charcoal toothpaste and I'm looking forward to seeing the results. These charcoal beauty treatments are affordable, and the reviews are great, so I figured I've got nothing to lose, and potentially a lot to gain! It's so easy to squeeze into my normal beauty routine and I'm glad to be using more natural products."
Hangover prevention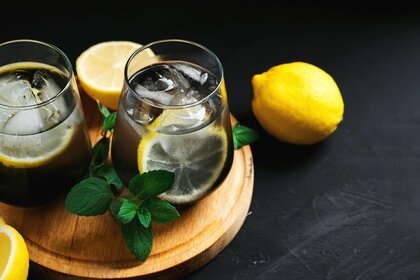 Yes, you heard it correctly, charcoal could actually be the next best hangover cure besides a cup of coffee in bed. As we mentioned previously, charcoal has some amazing detoxifying and absorbent properties, and this can come in very handy if you're looking to wake up after a couple of drinks feeling fresh as a daisy. Charcoal can absorb some poisonous toxins in the stomach, and it has been proven that consuming it at the same time as alcohol can prevent blood alcohol levels from rising.
Although some people say it has worked for them, this is not a hard and fast rule and doesn't work for everyone.
Food & drink
Activated charcoal is less commonly known for its health and detox properties, like helping reduce bloating and lowering cholesterol, but when accompanied by food or drink, the benefits are undeniable.
Gaining in popularity and becoming a common snapshot for Instagram, you'll often see charcoal added to high-end juices, waters, smoothies and even some coffees in a bid to keep up with trends, but they actually do have significant benefits.
Weak in taste and now readily available, if you have some spare time and want to save pennies, add some of the powder to your next smoothie, coffee or water and reap the benefits of its detoxifying and anti-bloating properties.
"Charcoal was an ingredient we started to see emerging in restaurants and food pop-ups last year. With its earthy, slightly smoky taste and dark colouring, it gives a premium feel to food and makes it a real talking point," Waitrose's executive chef, Jonathan Moore told The Guardian.
Medicinal
Charcoal can be used for various medicinal purposes, some as simple as treating itchy red bites and scratches to others as serious as reversing the effects of poisoning.
Thanks to its binding properties, research has shown that: "A single dose of activated charcoal can reduce drug absorption by up to 74%." says Healthline.
If all this talk of skincare and facials has put you in the mood for a pamper, there really is nothing better than a couples spa break in Yorkshire.
Our range of overnight breaks and luxurious treatments can leave you feeling relaxed, rejuvenated, and totally revitalised. Sit back, relax and book in for a spa treatment unlike any other.